Health Facilities in Bahria Town Karachi – UPN
by UPN
October 11, 2021
0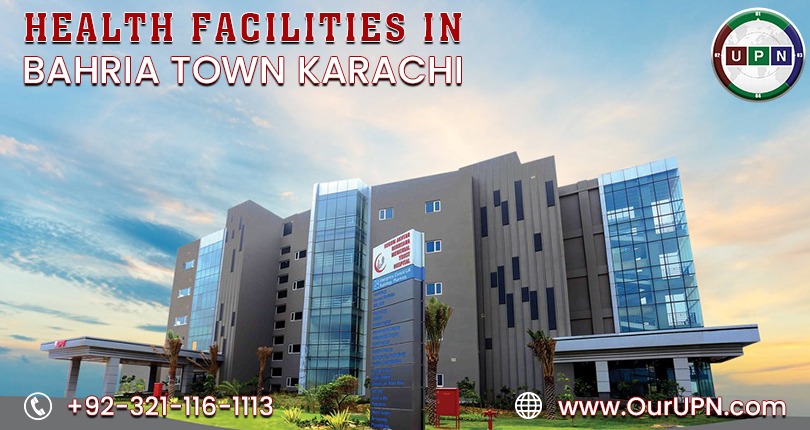 Health is Wealth! Healthy living, good physical and mental health is the priority of everyone living in this modern age. When we are healthy and energetic, we can do anything efficiently. Undoubtedly, health facilities are essential basic facilities a person searches for before shifting to any locality. So, what about the health facilities in Bahria Town Karachi? It is necessary to know about the healthcare facilities in this mega venture so that if you are planning to reside there, you can shift confidently!
Health Facilities in Bahria Town Karachi – An Overview
The health facilities in this mega housing society are of international standards. The high-end development, Bahria Town International Hospital, is operational in Bahria Town Karachi. Also known as Begum Akhtar Rukhsana Hospital, this place offers complete medical and healthcare solutions to the residents of Bahria Town.
This international standard hospital was inaugurated in 2018. Bahria International Hospital was founded by the cooperation of the Saudi-German Group.
Services at Bahria International Hospital
Begum Akhtar Rukhsana Hospital features the following services:
24/7 Emergency and Diagnostic Services
OPD Services are Available from Monday to Saturday
CCU and ICU
General Surgery
Mother and Child Care Centre
Breast Care Centre
Computerized Radiology
Nephrology and Urology
24/7 Pharmacy and Laboratory
Dental Centre
ENT Department
Eye Department
Dialysis Centre
Clinical as well as Interventional Neurology
Dermatology and Hair Transplant Centre
Gynaecologists
PCR Testing Unit
Accidental Care Services
Imported Ambulances
X-ray
24/7 Pharmacy in the Outdoor
There are two pharmacies in Begum Akhtar Ruksana Hospital, i.e., one inside and one outside. Moreover, several medical stores are operational in the shopping galleries of Bahria Town Karachi.
Additionally, Bahria Town International Hospital have highly qualified staff such as doctors, nurses and other staff.
One of the most important things is that Bahria Town has designed condos for this hospital's doctors and paramedical staff. These are located adjacent to the hospital and featuring Male and Female Blocks. The purpose of these living apartments is to offer good residential facilities to the doctors as well as to make them available when needed.
All these health facilities are enough to enjoy a healthy lifestyle in Bahria Town.
Upcoming Medical Projects and Developments
Soon, several new and mega medical projects will get operational to facilitate the increasing population of this society.
One of these megaprojects is Doctors Plaza, while several small to medium-sized clinics will also offer good quality healthcare facilities to everyone.
Conclusion: Bahria Town Karachi is undoubted the perfect place to enjoy international standard living facilities in Karachi. It is one of the beautiful and impressive developments where people don't need to be worried about healthcare facilities. Indeed, it has every medical facility, starting from Pharmacy, OPD to Cardiology Department and much more.
Contact us for further assistance.
Please contact Universal Property Network  For More Information click here or visit our youtube channel further assistance