Pak Arab Housing Scheme Lahore – Complete Details
by UPN
December 7, 2022
0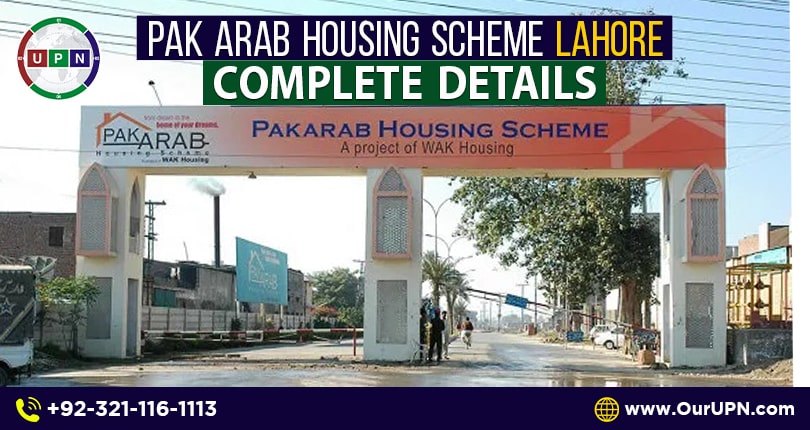 Pak Arab Housing Scheme Lahore (PAHS) is an LDA-approved society by Pak Arab Developers, a part of WAK Group. Located ideally at the prime location, it's a modern development with top-notch amenities. Planned to provide people the chance of purchasing low-cost properties, it's a complete residential package. Pak Arab Society houses for sale are also very popular as this place features good development and all the living amenities.
It is also an ideal project for profitable property investment. Easily approachable from multiple routes, this society enjoys a good connection with the main arteries of Lahore. It's a true image of a model housing venture where both buyers and investors can meet their desires for the property.
About Developers
It's a brilliant project by Pak Arab Developers, a part of WAK Group working since the 1960s. Their first housing project was the Lahore Cantonment Co-operative Housing Society, now known as DHA Phase-I. These developers have made their name in the property sector with dedication and commitment to their hard work. They have good experience from the past which is clearly visible in their work in Pak Arab Society Lahore. The world-class infrastructure is developed on a brilliantly designed master plan. Proper attention is given to every detail.
Pak Arab Housing Scheme NOC
Pak Arab Society Lahore has a duly approved No Objection Certificate (NOC) approved by the Lahore Development Authority (LDA). This project's developers have put great efforts into making this place completely legal and clear from all documentation issues. That's why you will find this society 100% developed while 90% of the total land has inhabitation. Such a high rate of residence is made possible because the investors find this place peaceful and completely secure to invest in. It also confirms that this place is approved in all ways.
Pak Arab Housing Scheme Location
Pak Arab Society's location is prime and easily accessible. This beautiful housing society is located at Ferozepur Road and Defense Road near Lahore Race Club. Its developers have no doubt set the best location so that people can find it easy to approach from multiple routes. The main city centers of Lahore are also at a short distance. You can also purchase property as the details are clear on the Pak Arab Society Map. Some of the nearby approaches to this society are:
Right at Defense Road Lahore and located at Ferozepur Road Lahore
This society is almost 6 min drive away from Tehaty Road Lahore and the distance is only 15 min drive away from Lahore Ring Road Lahore
Faiz Ahmed Faiz Road Lahore, Shanghai Road, Sitara Colony, Lahore, Kamahan – Lidher Road, and Gulshan Yaseen Colony all are short distances.
The housing societies nearby to Pak Arab Housing Scheme Lahore are DHA Lahore, Bahria Town Lahore, WAPDA Town, Model Town, and Johar Town. Also, Islampura, Chandrai, and Gul Colony are at a short distance.
Master Plan Details
The Pak Arab Housing Scheme master plan is designed exceptionally on modern terms as per urban development principles. The overall work on the master plan is done by experienced architects and teams of engineers. They have professionally crafted it and presented a masterpiece. Covering a major land area, this society comprises two phases. The details are:
Pak Arab Housing Scheme Phase I
Launched in 2003, it's a beautifully developed place. This Phase of the Pak Arab Scheme covers 1530 Kanal of land. Phase 1 is divided into several blocks named alphabetically. The entire land is offering 2789 plots including both residential and commercial.
Pak Arab Society Phase II
The second phase of this impressive project was launched in 2013 and was further divided into blocks namely F1 and F2. The entire land this Phase 2 is covering is 1639 Kanal. Moreover, the developers are further extending this phase to 400 Kanal where you will surely find the best Pak Arab Society house on rent and incredible investment opportunities.
A Block
B Block
C Block
E Block
F1 Block
F2 Block
Plots for Sale in Pak Arab Society Lahore
The entire housing project is beautifully developed with a wide range of plots. All these plot sizes are created as per the latest demands and requirements of modern buyers. Here you can invest in the following sizes of properties:
3 Marla Residential Plots
5 Marla Residential Plots
10 Marla Residential Plots
3 Marla Commercial Plots
4 Marla Commercial Plots
5 Marla Commercial Plots
Not only this, but also you can purchase ready villas such as:
Pak Arab Housing Scheme Payment Plan 2022
As Pak Arab Society is elegantly developed, it offers most of the plots on a lump sum. But don't worry as some of the best plots are still available on easy installments. Pak Arab Housing Scheme Payment Plan is attractive in all the terms. It offers you 5 Marla and 10 Marla residential plots with 20 monthly convenient plans. Booking of plots starts with a certain amount of down payment. Following are the details:
| | | | |
| --- | --- | --- | --- |
| Plot Sizes | Down Payment | 20 Monthly Installment | Total Amount |
| 5 Marla | 1,500,000 | 50,000 | 5,500,000 |
| 10 Marla | 4,500,000 | 250,000 | 9,000,000 |
5 Marla Plots for Sale in Pak Arab Housing Society Lahore
These plots on installments are launched at a reasonable price of 55 lacs. Booking starts from 15 lacs. The remaining amount will be payable in 20 monthly installments. Each installment is 50,000/- only.
10 Marla Plots for Sale in Pak Arab Housing Society Lahore
These reasonable plot prices start from 90 lacs. Booking can be made with 45 lacs only. The remaining amount will be payable in 20 monthly installments. Here each installment will cost you 250,000/-. Moreover, the payment plan for 10 Marla plots contains 20 monthly installments.
Facilities You will Get
Pak Arab Housing Scheme Lahore offers all the modern-day facilities that you can wish for in the latest housing venture. All the amenities are available at cost-friendly rates. These attractive facilities ensure a high-level lifestyle in the heart of Lahore. Your living will be full of comforts and luxuries. Some of the best amenities, you will enjoy at this place are:
Affordable Plots Prices
Latest Day Amenities Including Club House
Proper Markets and Commercial Areas
24/7 Security and CCTV Cameras Monitoring
Maintenance Staff for this Entire Society
Beautiful Entrance and Boundary Wall
Grand Mosque and Mosque in Every Block
Eco-Friendly Environment and Peaceful Surroundings
Gated Community with Complete Security
Quality Development and Advanced Features
Underground Electrification
Education Institutes and Healthcare Facilities
Water, Gas, Electricity
Proper Sewerage and Waste Management
Sports Complex Full of all Facilities and Games
Conclusion
Pak Arab Housing Scheme is an incredibly attractive housing venture in the center of Lahore. It is easy to approach, has good development, and number of opportunities for residence and investment. Most importantly, it has complete approval from the authorities which further boosts its worth. People find it suitable for investment, especially those looking for installment plots. The amenities provided are also of a high level. This society is a complete package for investment in property in Lahore. You can contact us to get the best deal on plots there.
Frequently Asked Questions (FAQs)
Here are the answers to the commonly asked questions about Pak Arab Housing Scheme Lahore.
Is it an approved project?
Yes, Pak Arab Society Lahore is duly approved by LDA.
Are the prices of the plots high in Park Arab Society?
It's a mega housing venture with bundles of property options available. Some of its plots are easily affordable even available with installments plan.
Is buying beneficial in terms of investment growth?
Pak Arab Housing Scheme is an ideal choice to invest your hard-earned money and grow your capital through property investment.
What is the location of this project?
This beautiful project is located on Ferozpur Road Lahore and has a good connection with Defense Road as well.
Who are the developers of this society?
It's a project by Pak Arab Developers, a well-known name in the real estate sector of Pakistan.
So, whether you are a buyer looking for the best place to reside or an investor and desire to grow your capital, purchase your required property i.e., plots, villas, and house on rent in Pak Arab Society Lahore.
Please contact us through WhatsApp, the Contact Us form, or visit our UPN Youtube Channel for further assistance.