Installments Plots in Bahria Orchard Lahore
by UPN
November 3, 2021
0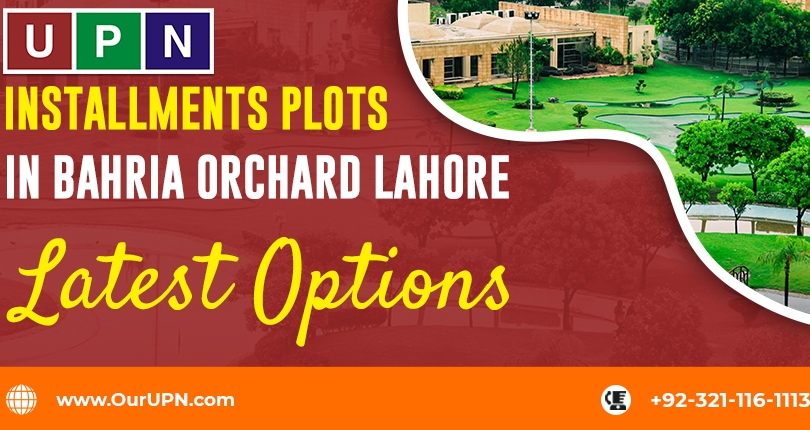 Everyone wants to invest in Bahria Town Housing Societies because of their state-of-the-art developments, excellent town planning, and unmatchable amenities. These housing societies are undoubted the most successful projects in Pakistan. Moreover, Bahria Town has four projects in Lahore, among which Bahria Orchard Lahore is one with good development and budget-friendly properties. But still, people desire installments plots in Bahria Orchard Lahore.
If you are also searching for residential plots on installments, please keep on reading!
Installments Plots in Bahria Orchard Lahore – OLC A Block
Bahria Orchard Lahore brings you an ideal opportunity to buy 5 Marla residential plots. It's a new deal of installments plots in Bahria Orchard. Located at the prime location of OLC A Block, these new plots are available at the best prices.
The price for 5 Marla General Plots is 60 lacs
5 Marla Category Plots Prices are 62 – 65 lacs
All these are open form plots you can easily purchase without paying any extra income. The launching prices of the plots are reasonable while booking with a 50% down payment. Hence, the remaining amount will be payable within 2 months.
The location of the plots is easily accessible from Gate 1 of Bahria Orchard Lahore. These plots are very close to Arena Cinema, Broadway Heights and Bahria School. Moreover, the area is completely developed and have a good construction.
Installments Plots in Bahria Orchard Lahore – K Block Extension
Another excellent opportunity to buy installments plots in Bahria Orchard is available in K Block Extension. This extension is part of LCO Phase 2, which is easy to approach from Gate no 6. This extension also offers 5 Marla open form plots available at the best prices.
42 lacs to 43 lacs for Boundary Plots
44 lacs to 45 lacs for General Plots
46 lacs to 47 lacs for Category Plots
Booking of plots starts with 15 lacs and 15 lacs within 2 months. The rest of the amount after 2 months. The installment plan of these plots spans over 4 months.
Investment in Bahria Orchard Installments Plots
Both these new plots in Bahria Orchard Lahore provide you with a chance to get the best within your budget. 5 Marla plots in OLC A Block are perfect for residential purposes. Families are living there while all the facilities available in the surroundings.
Moreover, K Block Extension plots are ideal to grow your capital and construct your dream house by the next 1 – 2 years.
So, what are you thinking about? Buy the best plots in Bahria Orchard Lahore by contacting UPN directly!
Contact us for further assistance. Please contact Universal Property Network For More Information click here or visit our youtube channel further assistance