Invest in Kingdom Valley Islamabad – Top Reasons
by UPN
April 5, 2022
0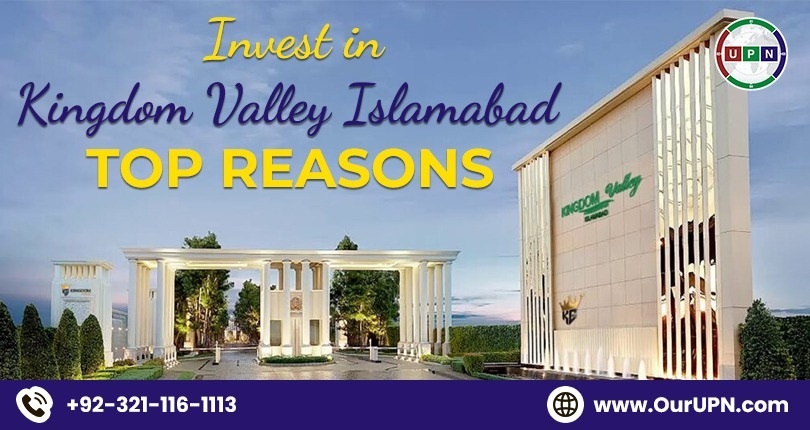 Kingdom Valley Islamabad is a new and emerging housing society with bundles of attractions. Located ideally close to M-2 Motorway, this project is launched by Kingdom Group. It's a thoughtfully planned, modern venture with all the latest-day amenities. This society offers a variety of residential and commercial options for sale. Moreover, the prices are surprisingly affordable and the payment plan of 4 years is provided. There are several reasons to invest in Kingdom Valley Islamabad. But still, many investors and buyers remain in the search of some solid reasons.
If you are also thinking to buy property in Kingdom Valley Islamabad, but hesitate, then please do read this latest write-up first.
Ideal Location of Kingdom Valley Islamabad
The location of Kingdom Valley is outstanding as this project is ideally located close to the M-2 Islamabad Lahore Motorway. The actual location of this society is near Chakri Interchange. Moreover, one can easily approach it on the drive of 2 – 3 KM. Undoubtedly, it's a perfect reachable location as many of the well-known projects are lying nearby.
Easy Accessibility
This beautiful society is easily accessible from the following destinations:
Almost 25 min drive away from International Islamabad Airport
It is 33 min drive away from M- 1 Peshawar Islamabad Motorway
Located right close to the M-2 Lahore Islamabad Motorway
This society is 30 min drive away from Rawalpindi Kohat Road
Moreover, 26 min drive away from Rawat-Chakbeli Road
This place is 30 min drive away from Srinagar Highway
Furthermore, 25 min drive away from Adiala Road
Also, it is 5 min drive away from Chakri Road
The distance from N-80 is almost 31 min drive away from N-80
Additionally, the nearby landmarks and places to this project are:
M- 1 Peshawar Islamabad Motorway
M-2 Lahore Islamabad Motorway
International Islamabad Airport
Short Distance from Capital Smart City
Near to Blue World City
Also close to Qurtaba City
Near Mivida City
100 % Approved Project from Authorities
The NOC (No Objection Certification) of Kingdom Valley Islamabad is 100% approved. This society came under Naya Pakistan Housing Scheme with Registration Number "DRG/PHATA/2176-2021". Such approval of any housing society has a higher potential for success. It also ensures its timely completion with the delivery of the properties to investors. Furthermore, the sustainable features of this project make it even more attractive in all terms. So, its approval from authorities is one of the major reasons to invest in Kingdom Valley Islamabad.
 Thoughtful Planning of Project
From the master plan of this society to amenities, development, and plots availability all are very well-planned. This society is perfectly designed by a highly qualified team of experts. Furthermore, well-educated architects and engineers are working round the clock for the excellent development and completion of this project. Moreover,  all these things ensure that this project will be of higher quality with no compromise on standards.
Variety of Properties
The Kingdom Valley Islamabad offers a range of commercial and residential properties in different sizes and categories such as:
5 Marla Residential Plots
7 Marla Residential Plots
8 Marla Residential Plots
10 Marla Residential Plots
1 Kanal Residential Plots
2 Kanal Residential Plots
2 Kanal Farmhouses Land
4 Kanal Farmhouses Land
8 Kanal Farmhouses Land
Commercial Plots are Available in Different Sizes
Houses are Also Available for Sale
The Kingdom Valley consists of several blocks such as:
Residential Block
Commercial Block
Farmhouse Block
Kingdom Villas
Overseas (Executive Block)
 Affordable Prices of Properties
Another significant reason to invest in this appealing project is affordability. Yes, by offering a range of the best options, this society is providing a chance for low-price investment as well. The prices of plots, villas, and farmhouses, all are reasonable. Furthermore, the easy payment plan of 4 – 5 years is provided for the ease of investors. Additionally, these properties in Kingdom Valley Islamabad are available for booking.
Following are the details of the price:
Kingdom Villas Prices
5 Marla are Available in 30 lacs Only
3.5 Marla is offered for in 24 Lacs Only
3.5 Marla Double-Storey Houses is offered in 35 Lacs
Kingdom Farmhouses Prices
These farmhouse's land prices are also low, making them, the best property to invest in in Islamabad.
2 Kanal farmhouse land will cost you 40 Lacs
4 Kanal land of farmhouses will cost you 75 lacs only.
8 Kanal farmhouse is available in 1.30 crores
Kingdom Commercial Plots Prices
Here buying a commercial plot will also cost you less. Moreover, you can easily book your desired commercial plot for the price of:
2 Marla commercial in 22 lacs
4 Marla commercial in 45 lacs
8 Marla commercial plot in 85 lacs
Kingdom Overseas Executive Block Prices
It's a beautiful, premium block in Kingdom Valley Islamabad. It offers the best options in:
8 Marla residential plot in 15 lacs
12 Marla residential plot in 21 lacs
16 Marla plot in 28 lacs only
Kingdom Residential Plots Prices (General Block)
5 Marla are available in the range of 12 lacs
7 Marla plot price is 17 lacs only
8 Marla residential plots will cost you 18 lacs only
10 Marla plot price is 21 lacs.
1 Kanal plot price is 35 lacs
Unique Salient Features – Invest in Kingdom Valley Islamabad
Kingdom Valley Islamabad offers a range of salient features and unique attractions which boost up its worth. Some of these features are:
Beautiful and Wide Entrance
Affordability with a Range of Options
Grand Mosque as well as Masjid in Every Block
Water Supply for Drinking and Cleaning
Eco-Friendly Project
Education Complex and Health Facilities
Quick Accessibility
Proper Commercial Area
24/7 Security and Surveillance
Good Maintenance
Quality Development with Advance Infrastructure
Water, Gas, Electricity Provision
Underground Wiring
Proper Sewerage and Waste Disposal System
Amenities You will Get
Provides you another major reason to invest in Kingdom Valley Islamabad and that's its top-class amenities. This impressive society is designed with a variety of latest amenities, attractive enough to make you fall in love. These facilities are up to date and luxurious fulfilling the desires of modern investors.
A large area of this society is dedicated to parks and lush green landscapes. Also, its developers are giving their best in making this place full of facilities so that you can call it modern.
Eco-Friendly Project
Kingdom Valley Islamabad will provide you with a completely environment-friendly place to live. It is a very close-to-the-natural lifestyle with all the contemporary amenities.
Grand Mosque
This state-of-the-art project perfectly caters to all the needs of its residents including the religious ones. For this, Kingdom Valley is planned with a great and grand Jamia Mosque. Furthermore, this impressive mosque will be completed with modern technology and architecture.
Community Center
This is another significant reason to invest in Kingdom Valley Islamabad. This society is designed with a proper community center. You will surely enjoy a proper social life.
Health Facilities
Kingdom Valley Islamabad offers a range of health facilities within the society. You will get access to state-of-the-art international hospitals and clinics. The emergency will be open 24/7, and experienced staff and doctors will be available at your service.
Education Facilities
To make sure the provision of international level education, this appealing society is planned with the best educational institutes.
High-Quality Infrastructure – Invest in Kingdom Valley Islamabad
Despite the reasonable rates, this society is ideal in terms of infrastructure. It is developing on the latest standard by the use of high-level technology. You will surely get the best quality and advanced development in this society.
High Return on Investment
Kingdom Valley properties are offering a high return on investment. People with a desire to get good profit can confidently get huge returns. The latest prices of plots, houses, farmhouses and commercials are low but will increase in the coming years. The right time investment will benefit you a lot.
Conclusion
So, that's all are the reasons to Invest in Kingdom Valley Islamabad. You will find this housing project suitable in all terms. It is ideally located, by well-known developers, and has the latest infrastructure and top-class amenities. Furthermore, the high returns are adding charm to its properties.
Please Contact Universal Property Network  For More Information click here or visit our youtube channel for further assistance