Kingdom Valley Balloting Date Announced
by UPN
November 9, 2022
0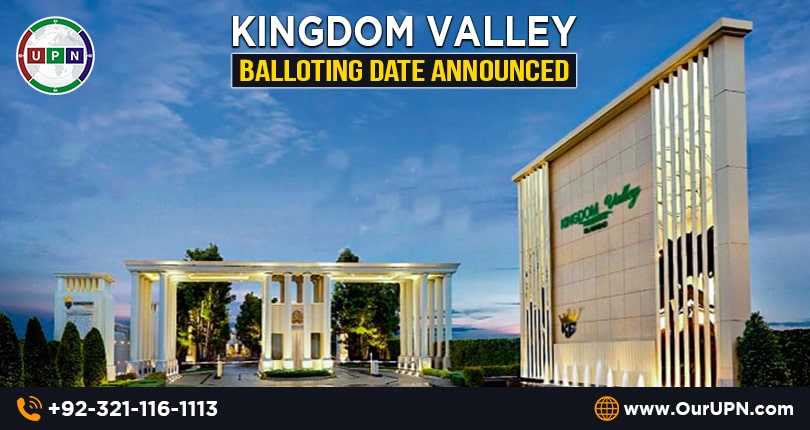 Kingdom Valley Islamabad is a low-cost housing society in Islamabad located on M2 Motorway near Chakri Interchange. It was launched a couple of years ago. But the official advertising and development work was started around 1.5 years ago. Also, Kingdom Valley Balloting is announced. It is announced for the files of General Block. Congratulations to the file holders of this block who had confidently invested in it. The time to get their plot ballot is finally here. This upcoming ballot will not only provide these investors with their plot locations but also brings more profits for them. Further details are:
About kingdom Valley Islamabad
Kingdom Valley Islamabad is a new luxurious but budget-friendly housing society developing speedily in the core of Islamabad. This project has a beautiful location that features outstanding infrastructure and top-notch amenities like hospitals, schools, parks, etc. Most importantly, it offers the best residential and commercial plots with convenient payment plans. Booking in this society starts from a few lacs moreover, you can pay the remaining in easy payment plans of 3 years and 4 years. Undoubtedly, it's a place to upgrade your living standards with affordability.
Kingdom Valley NOC
The No Objection Certificate (NOC) of this housing project is clear 100%. Also, this scheme comes under the low-cost Naya Pakistan Housing Scheme. The approval number of this project is DRG/PHATA/2176-2021″. Your investment in this society will be secure and profitable.
Kingdom Valley Balloting Details
The first balloting of Kingdom Valley Islamabad is announced. This society is featuring the best plots in General Block. The plots for sale in this block are:
3.5 Marla Residential Plots
5 Marla Residential Plots
8 Marla Residential Plots
10 Marla Residential Plots
1 Kanal Residential Plots
Kingdom Valley balloting date for general block plots is the 3rd week of November 2022. The actual date of balloting is yet to be disclosed. The complete balloting process with being computerized. Also, once the balloting is done, the results will be available online.
How is Eligible for the Upcoming Ballot in Kingdom Valley Islamabad?
All the plot files with 95% clear dues become part of this first ballot in Kingdom Valley Islamabad. Yes, the updated plot files whether you have booked on old prices or new, your file will be included in the balloting.
Expected Possession of General Block
Kingdom Valley General Block possession will be announced soon. As per the commitments of Kingdom Valley Developers and market analysis, the possession of this block will be handed over within 1-1.5 years of balloting.
The development work of General Block is going on smoothly. Currently, the development of residential streets is under process. The leveling of plots is also under work. Soon, you will see more development on the site as the working pace is satisfactory.
Reasons to Invest in Kingdom Valley
It's a project by one of the popular and trusted developers.
Also, it is approved by Naya Pakistan Housing Scheme and all the relevant authorities. It has 100% legal status and offers secure investment opportunities.
The options available in Kindom Valley Islamabad are wide in range. One can easily choose between the best residential plots, commercial plots, homes, villas, and apartments as per requirements.
Most importantly, the prices in this society are surprisingly affordable. Booking starts with a few lacs and the remaining will be payable in flexible payment plans.
Another major reason to invest in this appealing venture is the high returns on investment. Currently, the prices of the plots are now providing the opportunity to pay less and earn huge in the coming time. These rates are increasing and will go high once the development work is complete and possession available.
Also, the upcoming ballot of Kingdom Valley General Block will be a reason behind the prices increase. It will impact positively the overall properties of this society.
The speedy development of this society makes it a prominent option also this ballot is the second step. Soon the possession of plots will be available, shaping this society into a perfect place to invest in.
Frequently Asked Questions
Here are the answers to the commonly asked questions:
When Kingdom Valley Balloting will take place?
The first ballot of General Block will take place in the third week of November 2022. The results will be soon available online.
Is investment secure in this society?
Yes, your investment is 100% secure providing you with the perfect chance to purchase your desired property at affordable rates.
Please contact us through WhatsApp, the Contact Us form, or visit our Youtube channel for further assistance.