Investment in Bahria Town Karachi? Check the Best Options!
by UPN
October 27, 2021
0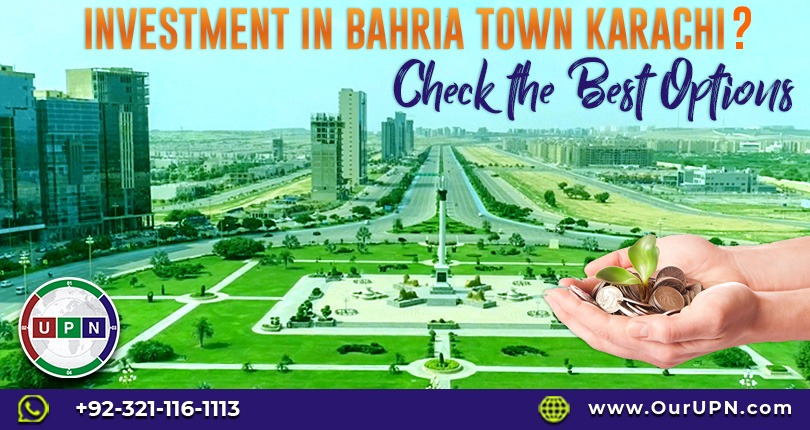 Bahria Town Karachi is a master-planned housing society where residence and investment are equally beneficial. It's a place full of luxury and comforts, which ensure a comfortable lifestyle. At the same time, investment in Bahria Town Karachi returns with huge profits even more than investors' expectations.
Are you also one of those looking for some best options for investment in this top society? But your purpose of buying is to generate a handsome rental income? Then, be happy as you have landed on the right page. In this latest blog post, UPN is sharing the top and the latest options for investing in the properties of Bahria Town Karachi.
Investment in Bahria Town Karachi – Villas or Commercial Properties
Villas is no doubt an excellent option to invest in Bahria Town for generating handsome rental income. The villas of 200 sq yards located in Precinct 10A and Precinct 11A are available in the price range of 1.90 crores to 2.20 crores.
The rental amount of these villas ranges between 50 – 60 thousand. However, the average rent of these villas is 55 thousand per month.
On the other hand, buying a shop or an office at Midway Commercial B Side will cost you between 2 – 3 crores. The rental value of these properties ranges between 1 – 1.5 lacs. There are some offices/shops on the ground floors whose rent per month is around 2.50 lacs.
Similarly, the offices/shops on the second floor will cost you around 70 – 80 lacs and their rent per month is around 60 thousand. The offices on the upper floors are also offering 45 – 50 thousand rent per month.
So, it is clear that the rental value of commercial properties is more than the residential villas and apartments. Therefore, people looking for investment in Bahria Town Karachi should invest in several private projects offering the best commercial properties.
Future of Commercial Properties at Midway Commercial A and B Sides
The future of commercial properties available at Midway Commercial A and B sides is very bright. Currently, 30% area of Bahria Town features inhabitation, and the rent of the shop/office is between 1-1.5 lacs. In the coming years, the rates of these commercial properties, their rental values will increase with the increasing population.
With more people start residing in Bahria Town, there needs for cafés, interior designers, restaurants, tailors etc., will increase. More businesses will move and get operational at Midway A and Midway B Commercials.
Here we can confidently conclude the shop/office costs 1 lac per month will cost 4 lacs per month in the coming years.
So, don't wait and waste the right time investment in Bahria Town Karachi and buy the best properties for sale.
Contact us for further assistance.
Please contact Universal Property Network  For More Information click here or visit our youtube channel further assistance