Best Plots in Bahria Town Karachi
by UPN
November 1, 2021
0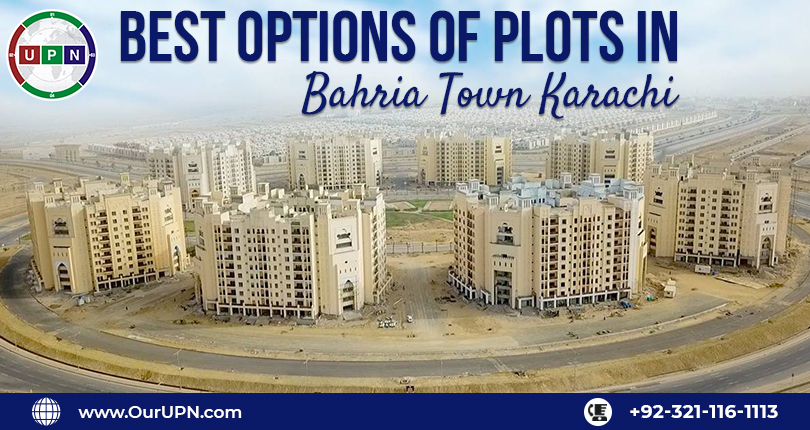 Want to invest in plots in Bahria Town Karachi? Searching for the best options that are equally good for construction, residence and investment purposes? Then, be ready to buy reasonable price but ideal location plots in this mega venture.
Bahria Town offers a wide range of residential plots starting from 75 sq yards, 125 sq yards to 1000 sq yards or 2000 sq yards farmhouses. However, people with a limited budget and desire to invest in a medium-size plot prefer buying in 250 sq yards. If you are also looking for the same, check out the beneficial options below:
250 sq Yards Best Plots in Bahria Town Karachi
The availability of 250 sq yards residential plots starts with the first precinct, Precinct 1 Bahria Town Karachi. But the prices of plots in this precinct are at their peak. Currently, these plots will cost you between 2 – 2.5 crores. So, where should you invest with a limited budget?
Invest in Precinct 22, Precinct 30 and Precinct 32.
These three are the beautifully designed, heart-winning options in Bahria Town Karachi. Being a part of Old BTK, it features state of the art development, possession of plots and all the living amenities. Moreover, the construction of houses is started. Many of these houses are near completion and soon get inhabited.
Precinct 22 enjoys a prime location at the top height. Similarly, Precinct 30 is one of the lush green developments, as it features maximum plantation. On the other hand, Precinct 32 have a close location to Rafi Cricket Stadium.
The latest prices of 250 sq yards plots in Precinct 22, Precinct 30 and Precinct 32 starts from 55 lacs and go high up to Precinct 70 lacs. Plots prices are entirely different depending on location, depth and category.
Comparison with Best Precincts of Bahria Town Karachi
From the inception of Bahria Town till the last 3 – 4 months, we all discussed Precinct 6, Precinct 8, Precinct 16, Precinct 47 and Precinct 48, the best precincts for 250 sq yards plots. But now, the prices of plots are increasing rapidly in them. None of these plots will cost you less than 1.50 crores.
On the other hand, the 250 sq yards best plots in Bahria Town Karachi are available in Precinct 22, 30, and 32. But again, one thing essential to mention here is that plots prices will not remain the same after the next 3 – 4 months. So yes, none of these plots will be less than 1 crore.
Buying the right plot at the right time plays a vital role in making a real estate investment beneficial. So, please don't wait and contact us for futuristic plots investment in Bahria Town Karachi!
Contact us for further assistance.
Please contact Universal Property Network For More Information click here or visit our youtube channel further assistance