Iqra University Will Open its Campus in Bahria Town Karachi
by UPN
January 25, 2020
0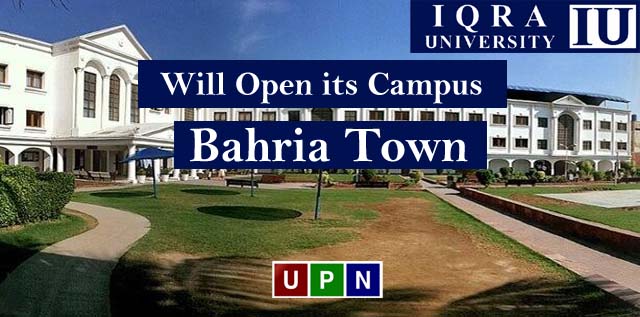 Iqra University that is one of the leading universities of Pakistan has signed an agreement with Bahria Town on the 17th of January, 2020, to open up a state-of-the-art campus in Bahria Town Karachi.
This campus will be soon operational in Bahria Town Karachi and both the graduate and postgraduate degrees will be awarded to its students.
The opening of Iqra University's campus in Bahria Town Karachi is definitely big news for the residents of this community.
Let's discuss some further details:
An Agreement Signed between Bahria Town & Iqra University – Details
Iqra University has recently signed an agreement with the Bahria Town management to officially launch its campus in Bahria Town Karachi. This agreement has been signed on the 17th of January, 2020. The attendants of this signing ceremony are the Founding Chancellor of IU, Mr. Hunaid Lakhani along with Vice-Chancellor Dr. Wasim Qazi.
Further, the Dean of the Faculty of Science and Technology Dr. Kamran Raza, and Ms. Kaif Ghaznavi, who is the Head of Department (HoD) of the Media Science Department were also present on the site.
This agreement has been signed between the Senior General Manager of Bahria Town Karachi Brigadier (Retired) Khalid Mahmood and Mr. Lakhani. However, Bahria Town's Chief Executive Officer (CEO) Malik Riaz, also attended the meeting via video conferencing.
He addresses the gathering and terms it a happy beginning of the New Year with a milestone development in the educational sector. He further said that this new campus of Iqra University will not only perform an exemplary role in the educational sector of Pakistan but will also cater to the need of the locals for high-quality education.
Meanwhile, the management of Iqra University also stated that this will be the first campus in Pakistan where all the faculty will comprise foreign faculty members. The Vice-Chancellor Dr. Wasim Qazi also informs the guests that 15 foreign faculty members had already been hired for this new campus.
Educational Facilities & Developments in Bahria Town Karachi
All the housing projects of Bahria Town are offering the best educational facilities in them. This new campus of Iqra University will be the fourth major educational campus that is officially launching in Bahria Town.
The first three standard and the official educational institutes in Bahria Town Karachi are:
Junior Campus of Bahria Town School & College in Precinct 1
Bahria Town Middle School in Bahria Golf City
The Future World Campus of the Roots Millennium School in Precinct 1
The development of Iqra University in Bahria Town Karachi will provide its residents with the best educational facilities from playgroup up to Ph.D. levels.
Stay updated with Universal Property Network!