Precinct 31 – 235 Sq. Yards Villas – All You Need to Know
by UPN
January 18, 2020
0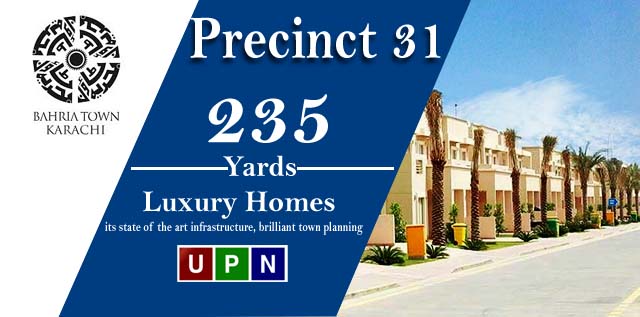 Bahria Town Karachi is an amazingly designed top housing project in the country. The society holds significant value for its state of the art infrastructure, brilliant town planning, and the best management. It is offering different ready to live properties but Precinct 31 Villas are the best to buy. 
It's a very well-planned area with numerous properties for sale. Bahria Town is offering different residential properties including plots, apartments, and villas. Comprising many precincts, every precinct of this society holds importance for its different prominent features.
Among all, Precinct 31 is also an attractive area with the best villas for sale in Bahria Town Karachi. Located at the ideal location, this precinct is designed with 235 sq. yards 3 Bedroom accommodations villas. No only villas but this Precinct are also featuring the reasonable plots of 125 sq. yards for sale in it.
Both these residential properties are ideal to buy to cater to your residential needs as well as for investment purposes.
So, here in this latest write-up, we will discuss the latest details of these properties in Precinct 31. Moreover, also include the details that make this Precinct ideal to buy property!
Precinct 31 Villas – Location Overview and Attractions
Precinct 31 is ideally located at the best location in Bahria Town Karachi. It lies at a distance of 15 km to 16 km from the main entrance. The distance may seem long, but there is no need to be worried. The area is very well-planned and featuring so many attractions and all the modern-day facilities.
Some prominent attractions and nearby location of Precinct 31Villas are:
Rafi Cricket Stadium is one of the most important attractions of Bahria Town located close to this precinct. Dancing fountain and Bahria Golf City is located at the walking distance. Further, Precinct 35 Villas are also located in the proximity of Precinct 31.
Development Status and Possession Updates of Precinct 31 Villas 
The development of Precinct 31 is 00 % completed. Even, the work on the construction of these 235 sq. yards luxury villas are near completion. Most of these villas are constructed completely and available with the keys. However, some of these villas are in grey structures that are also developing rapidly.
In addition to these villas, the 125 sq. yards plots for sale in Precinct 31 are fully developed and on-ground. It is expected that Bahria Administration will announce the possession of these villas in the next 3 months.
Latest Prices of 125 sq. yards Plots and 235 sq. yards Villas in Precinct 31
Both the residential plots of 125 sq. yards and the luxury Precinct 31 villas of 235 sq. yards are ideal to make an investment. The starting prices of these Precinct 31 villas are 80 lacs to 1.05 crore. Villas that are located at the prime location, completely develop, facing park or corner will cost your around 1.02 crore to 1.05 crore. Moreover, the prices of 125 sq. yards plots in Precinct 31 are also affordable. Here you can buy 125 sq. yards plots for sale at the cost around 16 lacs to 22 lacs.
So, if looking to buy or sell any property in Precinct 31or just contact Universal Property Network!