Jinnah Block Bahria Town Lahore 1 Kanal Plots – Investment Overview
by UPN
September 28, 2018
0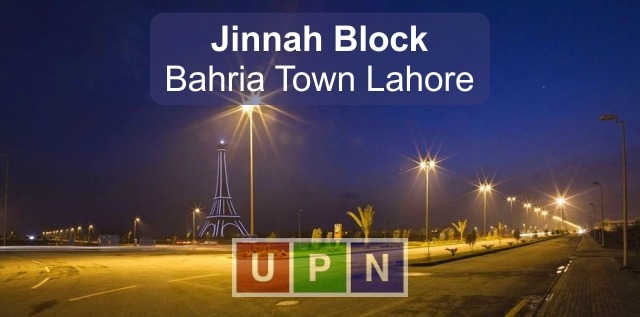 Jinnah Block of Sector E, Bahria Town Lahore has its own significance for having an ideal approach. Apart from an amazing location, this block offers a variety in terms of plot cuttings i-e- 5 Marla, 10 Marla, and 1 Kanal. In our previous blogs, Jinnah Block's 5 Marla and 10 Marla plots have been discussed, but 1 Kanal plots were not focused much. The 1 Kanal plots of Jinnah Block are worth investing and in future it would be ideal to for residency. Moreover, these plots are available at relatively economical prices as compared to other blocks, so buying is recommended.
Location of Jinnah Block
If we come from Main Boulevard of Bahira Town, then after crossing Grand Mosque and Clock Tower, Rafi Block starts right away. Jinnah Block is next to Rafi Block and it has Theme Park, Grand Mosque and Eiffel Tower in the surroundings. All facilities have been provided here by Bahria Town and Rafi Block Masjid is also functional for this block's residents.
Why to Invest in Jinnah Block 1 Kanal Plots
Not much time has been passed since these 1 Kanal plots of Jinnah Block were launched. But Bahria Town Lahore paid full attention for the development of this block and all plots and grounds are now on ground. The possession of these 1 Kanal plots has not been delivered that's why one should invest in right now to cash it after getting possession likely in next three months.
Jinnah Block 1 Kanal Plots Prices & Comparison with Nishtar Block
These 1 Kanal plots of Jinnah Block are now available in the price ranging from Rs. 1.15 crore to Rs. 1.35 crore. On the other hand, Nishtar Block 1 Kanal plots are located right opposite to this block alongside Main Boulevard but prices are Rs 1.35 crore to Rs. 1.6 crore.
Ideal for Construction and Short-term Investment
As compared to 1 Kanal plots of other blocks, these 1 Kanal plots are ideal for short-term investment. Soon after possession is announced here, construction of houses will begin. In this scenario, Jinnah Block 1 Kanal plots are suitable for both purposes.
For more updates and information, keep visiting Universal Property Network (UPN).