Lahore Smart City Possession Announced – Good News
by UPN
November 23, 2021
0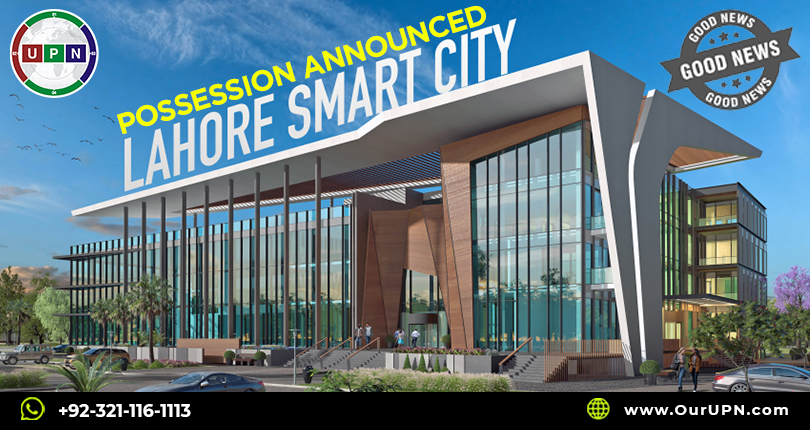 Pakistan's second smart city project, Lahore Smart City, is all set to surprise its buyers and investors with amazing news. It's the possession! Yes, Lahore Smart City possession announced. The dates for the first possession of this project are revealed. Congratulations to all the members of Lahore Smart City who had confidently invested in this appealing project. There are further other significant developments and updates as well; let's discuss these details one by one:
Lahore Smart City Possession Announced – Big News
A few days back, the developers of Lahore Smart City had announced to handover of the first possession of this society. They will first announce the possession of Sector A and Sector B. Both these sectors will have possession in the first quarter of 2022. Lahore Smart City Sector A plots will have possession in March 2022, while Sector B possession will be handover in June 2022.
Who Will Get the Possession First?
Lahore Smart City had announced that all the buyers who had booked their plots with 100% down payments would be awarded the possession plots in Sector A and Sector B. So next, the buyers of this beautiful, smart city project with all the clear dues and on-time payments will be eligible for the possession.
This rule will be applicable on both the residential and commercial plots of Lahore Smart City.
Another Big Development
Not only the possession details but the master plan of Lahore Smart City is officially revealed. Its master plan features the best planning, modern developments, and many attractions. This society will have two main entrances, i.e., from GT Road and Lahore Ring Road. But will have access from all four sides of the society.
After entrance from Ring Road, this society has a well-planned commercial area, sports and health districts, theme park, and grand mosque. Next is the 300 ft wide main boulevard and commercial properties on it' sides. Also, it has an 18-hole international standard golf course and soccer course.
The details for the luxury villas and farmhouses are also disclosed. But these properties are not currently available for sale. Furthermore, the extension of Lahore Smart City is launching soon.
New MoU for Healthcare and IT Facilities
Some of the other major developments in Lahore Smart City includes the signing ceremonies of MoU between FDHL and Pink Ribbon and Tech Avenue PVT. Ltd. Details are:
FDHL signs two MoU to build two Pink Ribbon Hospitals at Capital Smart City and Lahore Smart City projects. Each of these hospitals will have 200 beds and the following facilities:
Diagnostics
Chemo
Radiation
Surgeries
These hospitals are especially developing for patience with Breast Cancer.
The second MoU is signed between FDHL and Tech Avenue Pvt. Ltd. to meet and facilitate all needs of IT and smart technologies. Tech Avenue is artificial intelligence and cyber security company providing market-defining innovative solutions with a competitive edge in the global market.
So, all these developments, i.e., Lahore Smart City possession, current development, new MoU, and master plan, indicate that this society will soon be ready to live. Therefore, buying property in this society will surely benefit you in both residential and investment terms.
Another important thing to add here is the increase in the prices. Yes, Lahore Smart City possession will be available soon. But the prices are also increasing after 30th November 2021. After this deadline, Lahore Smart City plots will be only available on 3rd booking prices. So, hurry and book your plots in this appealing project where investment will return you more than your expectations.
Contact Universal Property Network for further details.
Please contact Universal Property Network For More Information click here or visit our youtube channel further assistance