Lake City Lahore – 2nd Balloting of M3-Ext 10 Marla Files Announced
by UPN
May 22, 2018
0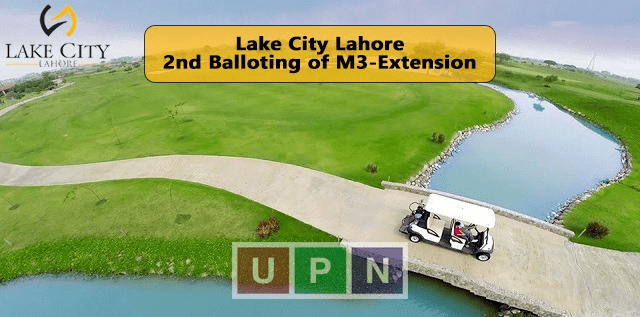 Lake City Lahore is a mega housing community committed to offer a dream lifestyle to its residents. By far, it has delivered up to 5,000 properties to buyers and development goes on further in this society. Last year, balloting of M3-Ext 10 Marla files were conducted in the end of October for only those who had cleared their pending installments. A number of customers unfortunately couldn't make to it for not fulfilling the mentioned criteria. As per promise, the administration of Lake City has decided to give them another chance as they were assured for the next time. Now the second (2nd) balloting of 10 Marla files of M3 extension is about to take place very soon.
2nd Balloting of M3-Ext 10 Marla Files
The 2nd Balloting of 10 Marla files of M3 Extenion, Lake City will be held on 30th June, 2018. The information surfaced as management has issued letters to the concerned file holders for payment of pending installments.
Last Date of Payment of Installments
Lake City administration has directed all these customers to pay their installments till 10th June 2018; otherwise they won't be eligible for this balloting. All these customers have also been warned that if they fail to pay their pending dues by last date, their bookings may be cancelled.
 A Review of M3-Extension Ist Balloting
The Ist balloting for 10 Marla plots of M3-Extension was held in Lake City Corporate Office on 27th October 2017. Total 276 file-holders qualified for the balloting at that time and allotted plot numbers against their files.
Development of Community Centre in Lake City
Complementing the needs of residents, Lake City is planning to build another community centre with having the facilities of swimming pool and gym inside. The construction will start soon for this multi-purpose building.
Lake City Lahore M3 Extension Plot Prices
The current price of Lake City M3-Extension 10 Marla plots ranges from Rs. 68 Lacs to Rs. 75 Lacs.
The second balloting of M3-Extension files is really a good news for files' holders, so they should pay pending installments on time.
For more updates and latest information, please keep visiting Universal Property Network (UPN).