Latest Property Prices in DHA Gujranwala
by UPN
March 7, 2021
0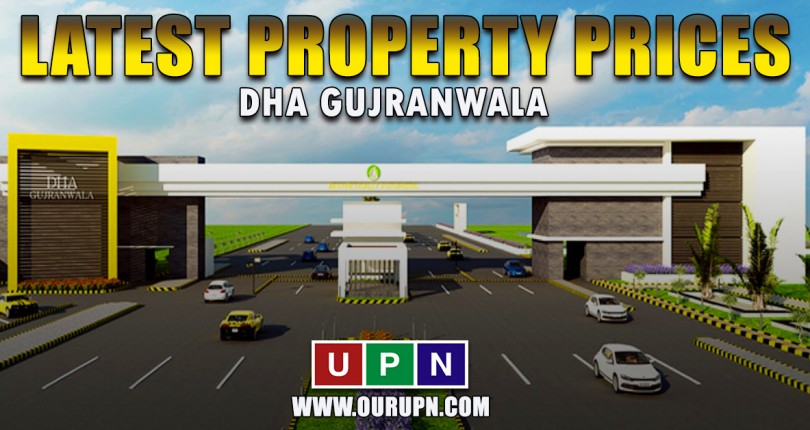 DHA Gujranwala is a lavish housing society with high-standard living facilities. It is the biggest housing society located between Lahore and Rawalpindi. It is the only housing project of DHA situated on Main Grand Trunk Road close to Rahwali Cantt. Spreading over a thousand acres of land, DHA Gujranwala offers residential plots, commercial plots, and villas at the best prices.
DHA Gujranwala – Industrial Golden Triangle
This society is also known as the "industrial golden triangle." But why? Because all the area between Lahore to Gujranwala is industrial agriculturally based area. The area between Sialkot to Gujranwala and Rawalpindi to Gujranwala is also an industrial agriculturally based area.
DHA Gujranwala – Balloting Date
Before sharing the latest property prices, we would like to share that DHA is soon going to ballot its files of DHA Gujranwala. Around 3300 to 3500 acres of land will be included in this upcoming balloting.
The official date of the balloting is not yet announced. However, we can confirm that it will take place in the last quarter of 2021. All the residential plot files such as 5 Marla, 8 Marla, 10 Marla, 1 Kanal and 2 Kanal will be included in this ballot. Moreover, 4 Marla and 8 Marla's commercial files will also be balloted in this upcoming ballot of 2021.
Latest Plots Prices in DHA Gujranwala
Basically, there are three categories of plots in DHA Gujranwala, such as:
Army Benefit Files
Files on Installments
Civilians Files
The 5 Marla residential plots in DHA Gujranwala are available in full cash only. The installment plan of 5 Marla plots is complete.
Following sizes of plots are available in full cash as well as in installments:
10 Marla, 1 Kanal and 2 Kanal residential plots
4 Marla and 8 Marla commercial plots
Prices of Plots on Full Cash
The 5 Marla residential plots are available at the total prices of 23.75 lacs.
10 Marla allocation files will cost you around 27.75 lacs.
1 Kanal plot files prices are 57.75 lacs.
The 2 Kanal residential are 4 Marla commercials are only Army Benefit Files have rare availability.
Here the 2 Kanal plot file will cost you between 1.55 crores to 1.60 crores.
4 Marla commercials will be available in the price bracket of 1.70 crores to 1.75 crores.
Prices of Plots on Installment
The 10 Marla residential plots are on installments are available in 44 lacs.
1 Kanal plots will cost you around 74 lacs.
2 Kanal hot location plots on the main boulevard are available with an own amount of 25 lacs.
The prices for 4 Marla commercials on installments are 2.25 crores.
On the other hand, the 8 Marla commercials on installments will cost you 4.25 crores.
Note: All the prices mentioned above are only the land of cost. The transfer fees, development charges and some other dues will be calculated later.
For booking and more details of property in DHA Gujranwala,  Contact Universal Property Network  .For More Information click here or visit our youtube channel