All Latest Updates of Precinct 28 & Precinct 29 Bahria Town Karachi
by UPN
February 4, 2019
0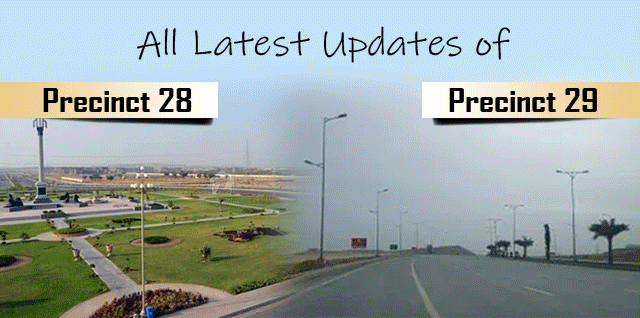 Bahria Town Karachi is the master plan by top property tycoon Mr. Malik Riaz. It is one and the only best housing plan located in the heart of Pakistan that is a complete city designed within the city. Comprised of different sub-projects and many precincts, it provides an ideal opportunity for investors and buyers to become a part of it at the most amazing prices. No doubt, the residential plots of different categories are available in it. But the demand for 125 sq. yards plots as well as for 500 sq. yards is never-ending. These days, Precinct 28 &Precinct 29 appears hot-favorite to buy the plots of these two categories, so let's discuss the details.
Location Overview
Precinct 28 is located at the 400 ft. Main Jinnah Avenue. Its ideal location makes it's the hot-favorite place for investors and buyers. Precinct 29 is situated alongside the boundary wall of Bahria Town Karachi.  Precinct-29 is adjoining to Jinnah Avenue from one side.
Amazing Attractions
Precinct 28 holds a significant value for it's amazing attractions that surrounded it.One of the most attractive landmarks that are Dancing Fountain is also designed in Precinct 28. Another major attraction for this precinct is Taj Mahal that is located in the Bahria Paradise is located at the back of this precinct. Bahria Golf City is located at close to it. While the approach to Bahria Sports City and Rafi Cricket Stadium is also possible through the same road that is used for approaching Precinct 28.
The attractions of Precinct 29 are Grand Jamia Mosque, Main commercial area, Rafi Stadium, Dancing Fountain and a well-known Five Star Hotel is under-construction located close to it.
 Development Status & Possession Details
The development of Precinct 28 is started and heavy machinery is working on the site. The work for the development of plots, road infrastructure, and work on electricity, gas, and sewerage is also completing at the fastest speed.
Precinct- 29 is one of those precincts in which the development work is already completed. All the plots are on the ground. You can now visit them physically before booking and buying
The possession of Precinct 28 & Precinct 29 is expected to be announced till the end of this year.
Latest Prices of 125 Sq. Yards Plots in Precinct 28
Precinct 28 is comprised of the plot cuttings of 125sq. yards that are available at the most reasonable rates. These 125sq. yards plots are available at the price bracket of 24 lacs to 29 lacs. Having the fabulous attraction of Dancing Fountain these plots of 125 sq. yards holds high value in the whole Bahria Town Karachi.
500 Sq. Yards Plots Updated Prices Details in Precinct 29
This precinct is only comprised of 500 sq. yards plot cuttings in it. The prices for the plots are economical and quite reasonable by making a comparison with the prices of any developed precinct. The price ranges for these 500 sq. yards plots are starting from in Rs. 60 Lacs to Rs. 80 Lacs.
For any further details and information, contact UPN realtors or keep in touch with Universal Property Network.