LCO Phase 2 Possession – Latest Updates
by UPN
May 27, 2022
0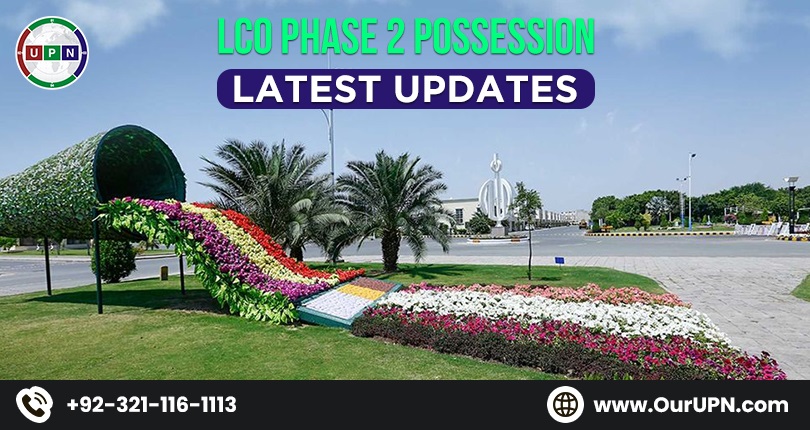 Are you looking to invest in Bahria Orchard Phase 2 Extension? Or had they already invested and waiting for LCO Phase 2 possession? Then, be happy as the time is not too far.
Bahria Orchard Phase 2 Extension was first launched as Bahria Orchard Phase 5 but later named LCO Phase 2. Located ideally adjacent to phase 2 of this society, it features all the trademark features and amenities of Lahore.
This society offers incredible opportunities in the following sizes of plots:
5 Marla Residential Plots
8 Marla Residential Plots
5 Marla Commercial Plots
These plots were launched at reasonable amounts along with the flexible payment plans of 1 year and 1.5 years. Booking of plots was also started with a few percentages of down payment.
Current Installments Updates of LCO Phase 2
This top-class venture was launched almost 1.5 years. Currently, all the installments of residential plots are complete. On the other hand, one installment of commercial plots is pending.
Development Status
LCO Phase 2 was first launched with three blocks, i.e., K Block, L Block, and M Block. However, a few months ago, another block named "K" block was added to its landscape. The development work of this place was also begun just after the official announcement. Now all the development of these blocks is complete. You will see visible development in K Block, L Block, and M Block. All the roads are carpeted, and dps are installed. Also, the work on the plot's leveling is done. Furthermore, the work on the main boulevard and entrance is completed with so much grace.
LCO Phase 2 Possession Date
Bahria Town Pvt. Ltd holds significant importance in the real estate sector of Pakistan. These top developers are also popular for the on-time delivery of their projects. Keeping in view the track record of Bahria Management, we are sure that the LCO Phase 2 possession will be available by the next 1-2 months. The speedy completion of development work further justifies this assumption.
Location of LCO Phase 2
LCO Phase 2 location is outstanding. It is located strategically with easy access from Raiwind Road. Another main access is from Jati Umrah Road. Also, people can reach it from a road between the C Block and D Block of Bahria Orchard Phase 2. This road is extended to Jati Umrah Road, near the residence of major parliamentarians.  The extension of this road to Jati Umrah will provide access to Bahria Town Lahore residents coming from Sector F. The main entrance of this society on Jati Umrah Road is define as Bahria Orchard Gate no 6.
In other words, the location of this society will provide ease of movement and commute to the residents of Bahria Orchard and Bahria Town Lahore. All the other phases of Bahria Orchard are located nearby. Moreover, many other well-known societies like Al-Kabir Town and Lake City Lahore are close.
Latest Plots Prices
The latest prices of plots in LCO Phase 2 are starting from 48 lacs for general and 52 – 56 lacs for the category. Similarly, the commercials for 5 Marla will cost you between 2.25 crores to 2.50 crores.
Plots Prices After Possession
The time for LCO Phase 2 possession is near. So, its investors are ready to earn handsome returns. Undoubtedly, the plot prices are increased already. But once the possession is handover, you will see a sudden increase in the prices. The expected prices of 5 Marla residential plots are 60 – 65 lacs.
Reasons to Invest
Bahria Town housing societies are always attractive for both investors and buyers. However, LCO Phase 2 won everyone's heart with its prime location and affordable rates. All the residential plots and commercials were launched on easy installments providing people a chance for suitable investment. The payment plans of plots are almost near completion, but still, there are several other reasons to choose this place, such as:
Low Plots Prices – Rates are still more reasonable than the plots of other Bahria Town housing projects.
Similar Amenities – Despite the affordability, LCO Phase 2 offers all the trademark amenities of Bahria Town projects.
High Returns on Investment – The plots for sale in this society are ideal for earning handsome returns. The prices will surely double in the next 2 – 3 years.
Nearby Possession – LCO Phase 2 possession is announced soon. It means you will be quickly able to do construction on your plot.
So, be ready for it!
Please contact Universal Property Network For More Information click here or visit our Youtube channel for further assistance.