LDA City Balloting Results Announced – Check Online 2019
by UPN
December 3, 2019
0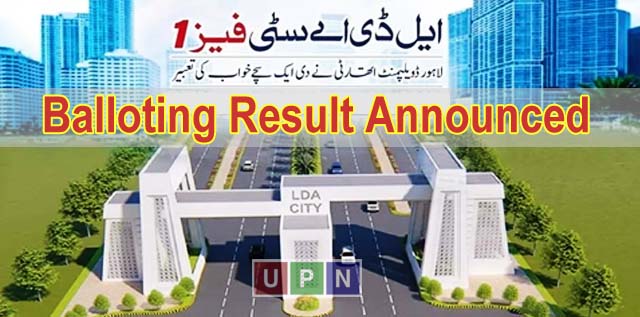 Lahore Development Authority has successfully conducted the computerized balloting of LDA City Lahore on November 30, 2019. It was the most-awaited ballot for the file holders of LDA City who has been waiting for the last many years. This balloting ceremony was held in LDA Arean at 2 PM. The ballot was held to allot plot numbers to residential files of 5 Marla, 10 Marla, 1 Kanal, and 2 Kanal in LDA City Phase 1 Lahore.
There are approximately 9000 successful files which are allotted with plot numbers. The administration is working hard on the development of these plots. Soon these plots will be handed over with possessions.
LDA City Balloting Results Check Online
The balloting results of the plots have been uploaded to the online database of LDA, so you can easily check your plot number by entering your file number in the form given on this page: https://www.lda.gop.pk/ldacity-plot.php
Congratulations to Successful Plot Holders
We Universal Property Network congratulate those who have come out successful in the first ballot of LDA City Lahore. At the same time, those who are unable to get plot numbers in this first balloting will be allotted with plot numbers in phase 2 of LDA City.
LDA City Lahore Balloting Details
This balloting ceremony was held at LDA site office Ferozpur Road where Provisional Education Minister Dr. Murad was invited as the chief guest.
In this ceremony, many reputable real estate dealers of Lahore along with investors were also invited. Moreover, Vice-Chairman S. M. Imran and DG LDA Muhammad Usman at the ceremony were also present at the occasion.
While speaking on the occasion, Provisional Education Minister Dr. Imran also shared the latest details regarding the development and progress of the project. He also congratulates the investors for successful balloting on LDA City Phase 1.
Moreover, Director General of LDA Mr. Muhammad Usman also briefed about the project. He discloses that a total of 9712 files are allotted with plot numbers.
He further shares the details of the project such as in LDA Phase 1 there are 81 plots of 2 Kanal and 1830 plots of 1 Kanal. The number of 10 Marla plots in LDA City Phase 1 is 3752, however, there is a total of 4049 plots of 5 Marla. LDA City Main Park would be comprised of 330 Kanal and 16 Kanal have been allocated for the main mosque.
Indeed, the administration is planning to build a world-class cricket stadium within the society to offer the visually-impaired living to the residents of LDA City. In addition, there are plans to build a model graveyard and a sports complex as well.
Stay Updated with Universal Property Network
For more details, latest news, etc. please visit our YouTube Channel: