LDA City Lahore Balloting – Latest Update
by UPN
November 28, 2019
0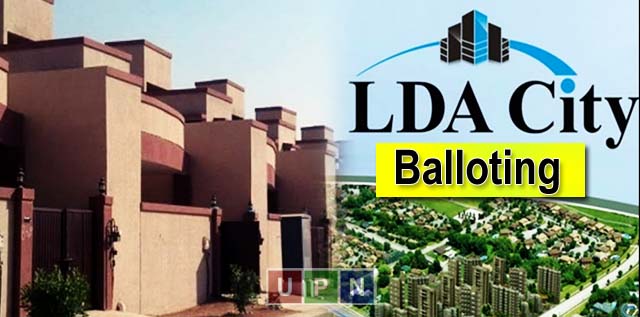 LDA City Lahore Balloting
The most-awaited, computerized balloting for allocation of plot numbers on exemption files of LDA City will be held on 30th November 2019 through Punjab Information Technology Board. This is definitely big news for the file holders of LDA City Lahore.  
The administration of LDA City has recently announced that around 9000 files will be allotted with plot numbers.
The official balloting date for the plot files is November 30, 2019. And file holders are anxiously waiting for it. Once the balloting is done, we will definitely share the balloting results with you.
Project Details Of LDA City Lahore
LDA City Lahore is a new and modern housing society spreading over a land of 58,000 Kanal. The society further comprises 5 sectors. These sectors are Sector 1, Sector 2, Sector 3, Sector 4, and Sector 5. The development work of this project is already started. But currently, the administration is focusing on the development of its Phase 1. This very first phase of LDA City Lahore is featuring the plots of 5 Marla, 10 Marla, 1 Kanal, and 2 Kanal.
The further details of the plots are:
In LDA Phase 1 there are 85 plots of 2 Kanal, 2288 plots of 1 Kanal, 4231 plots of 10 Marla and 4783 plots of 5 Marla,  LDA City Lahore Central Park will be developed on 330 Kanal and 16 Kanal have been allocated for the main mosque. In addition, there are plans to build a model graveyard and a sports complex within the society.
Following are the latest cash prices of plots in LDA City:
5 Marla Plot: 21, 90,000/-
10 Marla Plot: 31, 90,000/-
1 Kanal Plot: 48, 90,000/-
Current Development Status of LDA City Lahore
At the moment, the development work is underway in an area comprising 6,200 Kanal. It's development work especially, the work of its Phase 1 will be completed in 7 Packages. Currently, the development work is progressing on its package 2, package 3, and package 5. The development work on Package 5 will be completed next month and the remaining 2 will be done till February 2020. The management of LDA City Lahore will soon start working on the 4 remaining packages and plans to hand over it within one year after the ballot. Moreover, they will start collecting the development charges just after the balloting to start the development work on these packages.
Why Investment in LDA City Lahore 
It is a project by the Lahore Development Authority
Located ideally on Main Ferozpur Road and have easy access from multiple routes such as Phase 9 Prism and Lahore Ring Road.
LDA City Lahore lies in the proximity of DHA Rahabr, Lake City, and Central Park.
It offers different size plots at affordable rates
We Universal Property Network highly recommend you to invest in LDA City Lahore, because it is the right time to invest. After the successful balloting of the plot, the prices will definitely increase.
You can expect a rise of 20-25% in the prices of plots over the next years.
Check out our site for more detail. Latest News
Stay updated with Universal Property Network.