LDA City Lahore Latest News, Prices and Complete Overview
by UPN
November 22, 2021
0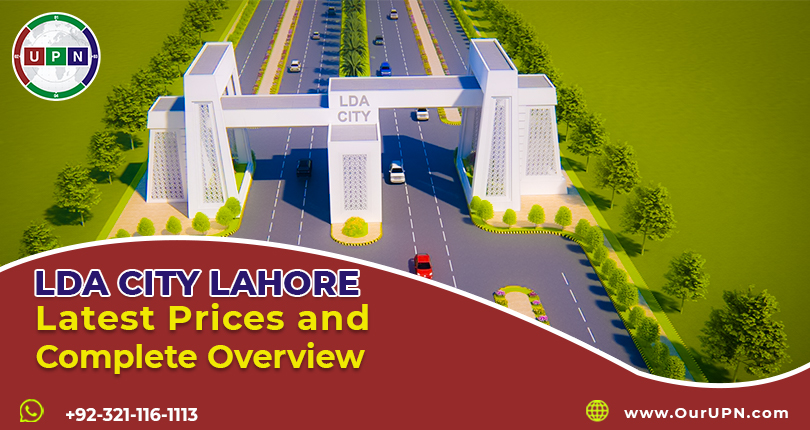 LDA City Lahore is a housing project by Lahore Development Authority located ideally. This project covers an area of 60,000 Kanal and offers the best residential and commercial opportunities in Lahore. It is designed smartly with the latest planning and development terms. Comprising two major sectors, LDA City Lahore latest news shows the division of several blocks in them. The pace of development in many of these blocks is good and seems attractive. The residential plots sizes in LDA City Lahore are:
5 Marla
10 Marla
1 Kanal
Also, a range of commercial plots is available for resale.
Plots for sale in LDA City Lahore was launched at the lowest prices. However, the latest prices are increasing with the increasing development. In this latest blog post, we will discuss block-wise development and costs in LDA City Lahore. So, let's explore these blocks one by one:
LDA City Lahore Latest News and Prices
BB Block
It's the first block that comes after the entrance, where the development work is moving on smoothly. BB Block is a part of the Jinnah Sector. Moreover, it offers the residential plots at the prices of 25 lacs to 35 lacs for 5 Marla, 10 Marla plots in 37 lacs to 48 lacs and 1 Kanal plot in 75 lacs to 80 lacs.
AA Block
This block also has a development. Moreover, the prices of plots in AA Block are also reasonable. The latest prices are starting from 24 lacs to 30 lacs for 5 Marla. At the same time, 10 Marla will cost you 38 lacs to 48 lacs. Also, 1 Kanal plots are available in 75 lacs to 1 crore price range.
CC Block
CC Block offers you the residential plots of 5 Marla, 10 Marla, and 1 Kanal. This block is also among the top blocks of LDA City Lahore, where the possession of plots will be available soon. The plots for sale in CC Block will cost you: 5 Marla in 30 lacs to 35 lacs, 10 Marla in 43 lacs to 50 lacs moreover, 1 Kanal plots in 75 lacs to 95 lacs.
Block A1 and B1
Some of these block's areas are not on-ground but still have good options for investment. Furthermore, the development work is under-process. These blocks have 10 Marla and 1 Kanal plot only. These plots are available in the price range of 35 lacs to 75 lacs. 1 Kanal plots prices start from 75 lacs and go high up to 1.10 crores.
C Block
Featuring good development and the best options in residential plots, LDA City Lahore latest news confirms that C Block plots will have possession soon. Its 5 Marla plots current prices are starting from 41 lacs to 50 lacs. 10 Marla plots prices are 58 lacs to 80 lacs. Similarly, 1 Kanal will cost you 85 lacs to 1 crore.
E Block
This beautiful block offers you 1 Kanal plot at the price of 75 lacs to 1.25 lacs. Development work in E Block is going on smoothly.
D Block
LDA City Lahore plots of 1 Kanal in D Block will cost you more because of their prime location. The starting price of 1 Kanal plot is 75 lacs. But the maximum prices are 1.80 crores.
F Block
Here 5 Marla are available at the price of 30 lacs to 33 lacs.
J Block
Plots for sale in J Block are available in 25 lacs to 35 lacs.
There are several other major blocks in LDA City Lahore where reasonable price plots available for sale. Soon the possession of 3000 residential plots will be available. According to the latest details, Jinnah Sector will have possession first. So, if you are planning for a beneficial investment at the prime location of Lahore, LDA City Lahore can be a perfect choice for you.
Please contact Universal Property Network For More Information click here or visit our youtube channel further assistance