LDA Issues Checklist for Buying Plot in Housing Societies of Lahore – Checklist Issues LDA
by UPN
June 19, 2018
0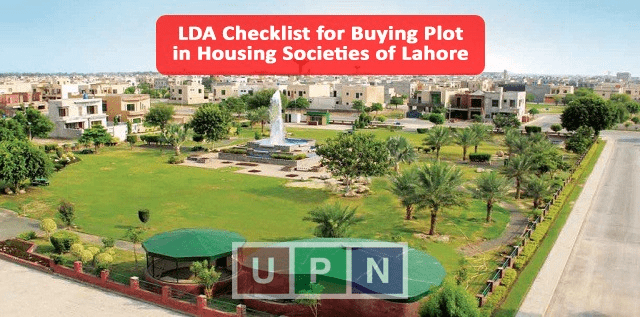 In recent years, a number of new private housing societies have emerged in Lahore and its neighboring cities Kasur and Sheikhupura. In a response to their extensive marketing or buyers' own needs, property buying including plots and homes has been in process. Not every private housing scheme is risk-free for secure investment and one need to cross check all facts before finalizing a decision for investment. Therefore Lahore Development Authority (LDA) has issued a checklist for buyers containing important instructions to follow before investing in private housing schemes of Lahore, Kasur and Sheikhupura.
Checklist for Buying Plot/Home in Housing Societies of Lahore
Before buying a plot or home in private housing schemes of Lahore, Kasur and Sheikhupura, please check and verify the following.
NOC approval of the housing scheme and its approved map/layout/master plan from relevant authority
Total number of plots, all categories, category wise plots' count
Details including numbers and blocks of those 20% plots which are given in LDA's possession temporarily (definite period) as per rules and regulation
Whether your plot is in approved scheme plan on acquired land or not?
Whether buyer's plot is included in those 20% plots to be in temporary possession of LDA or not?
Public use buildings are as per approved plan and confirm that your plot doesn't fall under that area whose land has been dedicated for school/masjid/graveyard/community center.
Ensure that if there is any case in process against this housing society in NAB or any other institute/court.

Important Instructions for Buyers
Don't get deceived by the marketing campaign and attractive advertisements instead buy a plot/home after verifying scheme approval, payment plan and other details.
Visit the actual site of housing society yourself and checkout that housing society/scheme has acquired all land from concerned authority or not.
Must confirm about development charges before booking the plot/home.
Check the current status of electrification, Sui gas, water connection, telephone installation and sewerage if approved or ask for status of approval.
Visit the site and observe about amenities on ground like school, masjid, park and hospital and verify as per advertisement. More often developers offer plots on the areas reserved for amenities.
Know when development will complete and possession will be delivered and if there any charges payable at the time of possession.
Find out if there is additional (hidden) charges payable other than payment plan.
Pay order or Bank Draft should be the payment modes and receipt must be received. Also save address and contact numbers of main and sub-offices of housing society.
For more information and guidance, contact the relevant director mentioned in the notice. This information is also available from Counter Number 22, LDA One Window Cell from 8:00 pm to 1:00 pm in routine working days.
Keep visiting Universal Property Network (UPN) for more information and latest updates.