New Currency Notes on Eid by SMS Service – Complete Procedure and Details
by UPN
June 1, 2018
0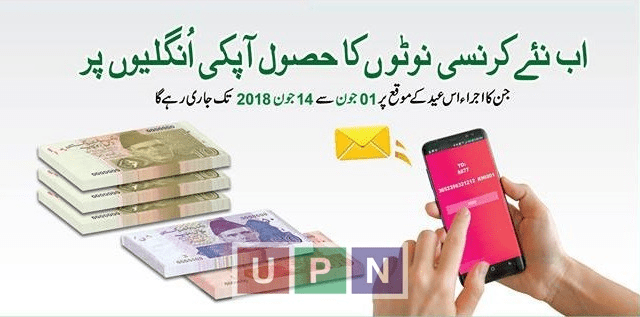 The joyful occasion of Eid-ul-Fitr brings up happiness for everyone and celebrated with great zeal and fervor. Giving Eidi to your loved ones on this special day is years-old tradition and for this, new currency notes are the basic requirement. Who doesn't want to get new currency notes on Eid for this purpose? Therefore State Bank of Pakistan has re-launched SMS service to issue fresh new currency notes to general public in collaboration with Pakistan Banking Association. These fresh currency notes will be fairly distributed to general public via this SMS service through 1535 designated commercial bank branches (e-branches) countrywide. Now the new currency notes are at your fingertips and can be booked and confirmed easily by sending an SMS to 8877.
How to Get New Currency Notes on Eid – Procedure of SMS Service
Type your CNIC Number with (-) for example 35201-1234567-8, (Give Space), Type ID of your Desired/Nearest Bank Branch and Send this message to 8877.
You will receive a confirmation reply shortly containing transaction number, branch address and time frame (days) on which you can receive fresh currency notes.
A subscriber can exchange and get maximum three packets of Rs10, and one each packets of Rs50 and Rs100.
Issuance of New Currency Notes on Eid-ul-Fitr 2018
The provision of new currency notes to general public will continue from Ist June to 14th June via designated branches.
The subscriber will have to show his original CNIC and will present a copy of it as well along with transaction number while receiving fresh currency notes.
Important Information
SMS to 8877 will cost Rs. 1.50 + Tax to subscriber.
Please keep in mind that E-Branch ID is applicable for this service which is different from Branch Code. The list has been given above for download.
To avail this service, each CNIC number and cell number can only be used once.
No Transaction ID will be issued if you send same CNIC from different mobile numbers.
For any query or to address a problem, a help line (021)-111-008-877 has been established.
List of E-Branches and Respective Branch IDs
Hurry up guys and avail this wonderful opportunity by sending SMS right now. People from all across the country are looking after this service to get fresh notes, so don't get late.
For more information the latest updates, please keep visiting Universal Property Network (UPN).