Low Budget Investment Opportunities in Bahria Town Karachi
by UPN
August 22, 2020
0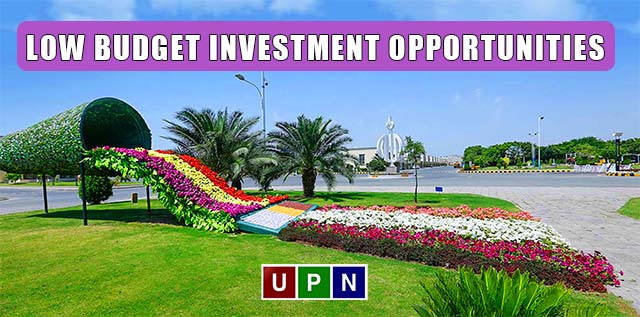 Bahria Town Karachi is a mega housing society offering the exclusive and the futuristic living spaces at the best prices. Located far away from the hustle and bustle of city life, this society is a beautiful description of style, excellence, class, and luxury. Designed with the best properties, Bahria Town Karachi is full of investment opportunities. However, most of the investors desire to make the best property investment in Bahria Town in low-budget. If you are also looking to buy profitable low-cost properties in Bahria Town Karachi, then be happy as you are at the right place. Let's read out to find more!
Low Budget Plots for Sale in Bahria Town Karachi
Precinct 10B and 11B
All the precincts of Bahria Town are very well-planned that no one remains in the dark. But when it comes to buying the best and the affordable plots of 125 sq yards, Precinct 10B and Precinct 11B is always the top option.
These precincts are located at the distance of 2KM from Main Jinnah Avenue and are surrounded by many attractions. Bahria Golf City School is located nearby, and a mosque is developing in Precinct 11B. Development status is 100% complete while the possession of plots is available. Numbers of houses are under construction, and also many families are living there.
Precinct 27 and Precinct 28
Moving ahead, we have another best investment opportunity for you. These are also the most affordable plots of 125 sq yards available in the price range of 22 lacs to 25 lacs. 100% of Development work is completed while the possession is also available. These precincts are located on Main Jinnah Avenue and easily accessible. Bahria Golf City is located in front of these precincts, and the villas of 27A are located nearby.
Precinct 15A and 15B
Another good option to consider while investing in the low-budget, highly profitable properties of Bahria Town Karachi are Precinct 15A and 15B. These precincts are currently developing, and the development work is moving at a good pace. The average price of a good plot in Precinct 15A and 15B is 18 lacs to 19 lacs.
Precinct 22 and Precinct 32
If you are looking to buy a bigger plot where you can construct your dream home in Bahria Town Karachi, then choose the plots of 250 sq yards available in Precinct 22 and Precinct 32.
All these plots are on-ground and available with possession. The most prominent feature of these precincts is that 250 sq yards are available in the budget of 125 sq yards plots. The ideally located plot of 250 sq yards in Precinct 22 and 32 will cost you around 25 lacs to 28 lacs.
The location of these precincts is a little bit far from the main entrance. This distance is the reason for the low prices of property. But once it develops and with the increase in the ratio of construction and habitation, these precincts will return you with your desired profit.
Precinct 61, Precinct 62 and Precinct 63
These precincts are announced recently. Development works begin and will be ready soon. These precincts are offering affordable plots of 125 sq yards and 250 sq yards. Here a plot of 125 sq yards will cost you around 10 lacs. The bigger size plot of 250 sq yards will be available in 17 lacs. The construction of ground + 2 floors is allowed on these plots.  However, buying a property in these precincts is only recommended for long-term investment purposes.
Stay connected with Universal Property Network for more details and updates!
Check out our site for more detail. Latest News