Lowest Prices 1 Kanal Plots in Lahore
by UPN
January 28, 2022
0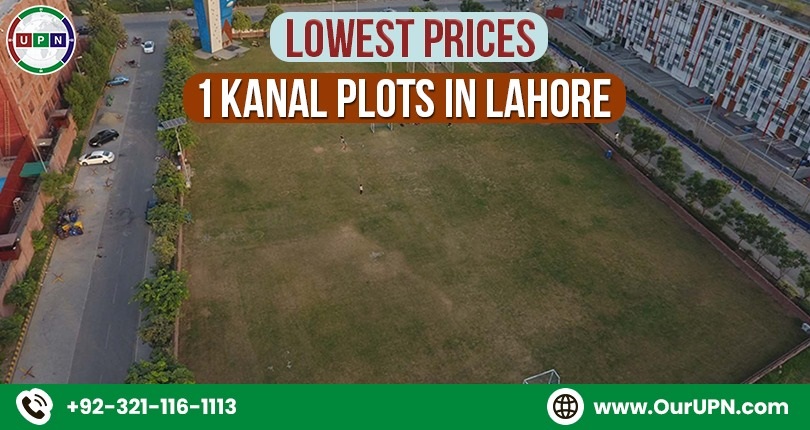 Do you want to buy a plot to construct your dream house or investment growth? Are you searching for the lowest prices for 1 Kanal plots in Lahore so that you can invest confidently? Then, be ready to get the best deal of 1 Kanal plots available at the price of 10 Marla.
Sounds impossible? But it's true! Now you can buy the best plot of 1 Kanal in Lahore at the lowest prices. You must be worrying about odd locations or any of the undeveloped housing societies. Stop thinking as these attractive plots are located perfectly in Bahria Orchard Lahore, a top-class development in the town. Further details are:
Lowest Prices 1 Kanal Plots in Bahria Orchard Lahore
A new deal of 1 Kanal residential plots launched in Bahria Orchard Phase 4. These are limited numbers of plots available at the best prices. The launching prices of the plots are 1.25 crores to 1.35 crores. These are open form plots means no transfer fees or any extra charges.
These plots are ideally located in G6 Block. This block is easily accessible from Gate no 4 main entrance of Phase 4. However, one can also approach it from Bahria Orchard Phase 3.
Booking of plots is available on a first-come, first-served basis. Therefore, one can easily buy general and category plots as per his requirements.
Are These 1 Kanal Plots Available in 10 Marla Plots Prices?
Yes! These are the lowest prices 1 Kanal plots in Bahria Orchard Lahore. Here adding the examples of:
Bahria Town Lahore best sectors, i.e., Sector E and Sector F, are offering the best 10 Marla residential plots in the price range of 1.35 crores to 1.50 crores. Even some of the top blocks, such as Quaid Block, Ghaznavi Block, and Tauheed Block, have these plots available in 1.50 crores above.
Similarly, the top blocks of Bahria Orchard Lahore, i.e., Central and Northern of Phase 1, are offering 10 Marla plots in 1.25 crores.
So, all the doubts are clear that these 1 Kanal plots of Bahria Orchard G6 Block are available in the price range of 10 Marla.
About G6 Block Bahria Orchard Lahore
G6 is one of the beautiful and impressively developed blocks of Bahria Orchard Phase 4. Undoubtedly, all the blocks of this society are attractive, but G6 holds significant importance. This block has been catching everyone's attention for the last 1.5 years. The reasons behind the popularity of G6 Blocks are:
The launch of several houses, villas, and apartments projects by Q-Links Developers. Yes, several popular villa projects are located in G6 Block Bahria Orchard Phase 4. These projects include:
Jasmine Villas
Orchard Homes
Safari Villas
Moreover, the first deal of 5 Marla plots in Phase 4 was also launched in G6 Block.
Current Development Status
The current development updates of the G6 Block are also impressive. Almost all these above-mentioned villas projects are developing at a satisfactory pace. There are almost 2000 houses which once ready, a large number of families will move to them. Undoubtedly, these houses will be a big reason behind the inhabitation in Bahria Orchard Phase 4. That's every property in G6 Block have importance and investors finds it attractive for investment.
Why You Should Invest in G6 Block Lowest Prices 1 Kanal Plots?
These plots are attractive for the reasonable prices, availability on open forms, ideal location and easy access. However, if you are still searching for the reasons to choose these plots, please keep on reading below:
Construction of Your Dream House
This 1 Kanal plot new deal is ideal to choose to turn your dream of the house into a reality. The surroundings of this G6 Block are beneficial. Soon all the living amenities will be available in it. Orchard Mall, Times Square Mall and Residencia, Tower 3, and especially Arabian 99 Mall are developing nearby. Moreover, the commercial plots of 4 Marla and 8 Marla on the main boulevard are also planned to facilitate people with the best facilities.
Best for Investment Growth
Another reason to choose 1 Kanal plots new deal is investment growth. The current launching prices of plots are 1.25 crores to 1.35 crores. But within 1 – 1.5 years, the prices of these 1 Kanal plots will be equal to the 1 Kanal plots of G1 and G2 Blocks. So buying there will surely provide you with huge profits.
So, what are you still waiting for? These 1 Kanal plots in G6 Block are ideal for both buyers and investors. People looking to buy affordable but ideal location property can confidently go with this new deal.  Note: All these are open form plots, providing you with a chance of low-price investment without paying a transfer fee or any hidden taxes.
Contact Universal Property Network to book your 1 Kanal plot available at the price of 10 Marla before all are sold out!
Please contact Universal Property Network For More Information click here or visit our youtube channel further assistance