Lowest Prices 250 Sq Yards Plots Bahria Town Karachi
by UPN
October 22, 2021
0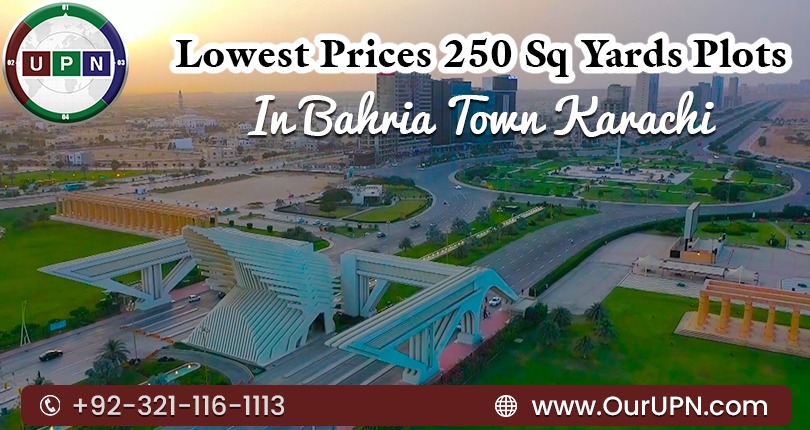 Are you looking for the lowest priced plots in Bahria Town Karachi? Especially you desire to invest in 250 sq yards plots where the return on investment is high? Then, do buy them confidently in Precinct 22. Undoubtedly, Bahria Town has a bundle of options to buy the lowest priced plots. But for those searching for ideal location plots and the purpose of buying is investment returns, then, Precinct 22 is the most suitable option.
250 sq yards plots Bahria Town Karachi are reasonable to buy for residence and investment purposes. Precinct 22 offers the best opportunity to all.
Precinct 22 and 250 Sq Yards Plots Bahria Town Karachi
This beautiful precinct is a part of Old BTK. It is a heightened location precinct with good development and easy access. Precinct 22 is being famous for 250 sq yards plots. Around 75% of its areas are developed while 25% is growing at an impressive pace of development.
This precinct is also a dam where a large quantity of rainwater is stored and re-utilized.
Precinct 22 plots of 250 sq yards are available in the price range of 45 lacs to 65 lacs. Plots that are available with possession will cost you between 55 lacs to 65 lacs. Similarly, there are some developing areas where buying plots is affordable. Here a non-develop plot is available in the price bracket of 45 lacs.
Comparison with Nearby Precinct
The prices of 250 sq yards plots Bahria Town in Precinct 22 are low and affordable. For example, 125 sq yards plots in Precinct 24, Precinct 25 costs 45 lacs. But on the other hand, the non-develop plots of 250 sq yards are available in 45 lacs in Precinct 22.
Best for Investment250 Sq Yards Plots Bahria Town Karachi
People looking for good location plots of 250 sq yards for investment purposes can confidently invest in Precinct 22. This precinct offers lifechanging investment opportunity especially to those desire to maximize their capitals. Therefore, buying in these lowest prices plots is 100% good and beneficial.
Moreover, if you plan to build your dream house in the next 4 – 5 years, this precinct is also perfect for it.
Contact us for further assistance.
Please contact Universal Property Network  For More Information click here or visit our youtube channel further assistance