Ready Properties in Bahria Town Karachi – Apartments and Villas
by UPN
October 20, 2021
0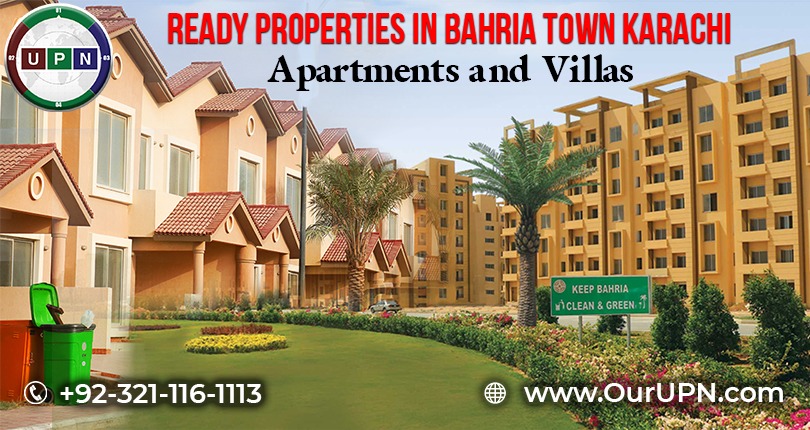 rom its inception till date, Bahria Town Karachi has become the favourite choice of investors and buyers to buy property. This mega venture is, no doubt, a complete city within the city. It has a bundle of options available in plots. At the same time, the ready properties in Bahria Town Karachi are also available in abundance. People planning to buy ready properties to live in Bahria Town or invest can confidently choose from the following options:
Ready Properties in Bahria Town Karachi
The ready to shift properties in Bahria Town Karachi are:
Precinct 2 Villas
This beautiful precinct features two villas' projects, i.e., Iqbal Villas and Quaid Villas. All these villas are developed, have a good ratio of inhabitation and are available for rent and sale.
Iqbal Villas are 152 sq yards luxury villas with 3 bedrooms accommodation. Moreover, Quaid Villas are 200 sq yards villas with 3 bedrooms accommodation. Prices of villas are different as per location and condition.
Precinct 10A and Precinct 11 A Villas
Both these ideal location precincts have 200 sq yards luxury villas for sale. These are also 3-bedroom accommodation villas. Featuring appealing exteriors and beautiful interiors, these villas also have a good ratio of population. Furthermore, all the living amenities are available in the surroundings. You can also buy these villas or can move in them by getting them on rent.
Precinct 11B Villas
This precinct is also providing a good option for investment in ready properties in Bahria Town Karachi. Precinct 11B villas are 125 sq yards luxury villas available at the best prices. These are ready to move villas that will cost you less compared to several villas discussed above.
Precinct 19 Apartments
Undoubtedly, it is one of the most famous precincts in Bahria Town Karachi. Precinct 19 offers a variety of options in residential apartments. It features 2-bedroom, 3 bedroom, and 4 bedrooms apartments for sale. These apartments are available in several towers, i.e., a few are Jinnah Facing, main road and some at the back. Moreover, the prices of the apartments are also different in category, location, and conditions. These are high in demand ready property in Bahria Town you can buy them on rent as well.
Precinct 27 Villas
People looking for bigger sizes of ready to shift houses can invest in Precinct 27 Villas. These are 235 sq yards villas available at the two different locations of Precinct 27, i.e., some are after entrance while few are at the back. Beautifully developed, Precinct 27 villas possession is available, and many of the families are living there. The demands and the prices of these villas are increasing day by day.
Precinct 31
Similar to Precinct 27 Villas, Precinct 31 Villas is another suitable option to buy property in Bahria Town Karachi. This precinct features state of the art infrastructure, breath-taking beauty, and modern developments. These 235 sq yards villas offer 3 bedrooms accommodation and have an impressive layout plan. Moreover, the ratio of residence is also increasing with time. The prices of these villas are also the same as the villas of Precinct 27.
Precinct 35
This precinct is a part of the very beautiful Bahria Sports City. Precinct 35 offers the very popular Bahria Sports City Villas of 350 sq yards. These are luxurious 4-bedroom accommodation villas located in the proximity of Rafi Cricket Stadium. Undoubtedly, these are among the first few villas' projects with an impressive number of families living there. The possession for all the villas is available while you can also buy them on rent.
Precinct 51
Bahria Town biggest villas of 500 sq yards are located in Precinct 51 Bahria Paradise Karachi. These are 5-bedroom accommodation villas where the possession of the first 50 villas is handover. The prices of these villas are increasing day by day.
Bahria Heights
These are two-bedroom apartments located close to Grand Jamia Mosque. This project comprises 8 towers, and all are offering 1100 sq ft. 2 bedrooms apartments. This project is another best option to buy properties in Bahria Town Karachi.
So, summing up all the details, we want to add that all these ready properties in Bahria Town Karachi are purely by Bahria Town. Those looking for more options can invest in several projects by private builders. Both villas and apartments of different sizes and prices are available.
Contact us for further assistance.
Please contact Universal Property Network  For More Information click here or visit our youtube channel further assistance