Lowest Prices 5 Marla Plots Bahria Orchard Lahore – New Open Form Deal
by UPN
September 1, 2021
0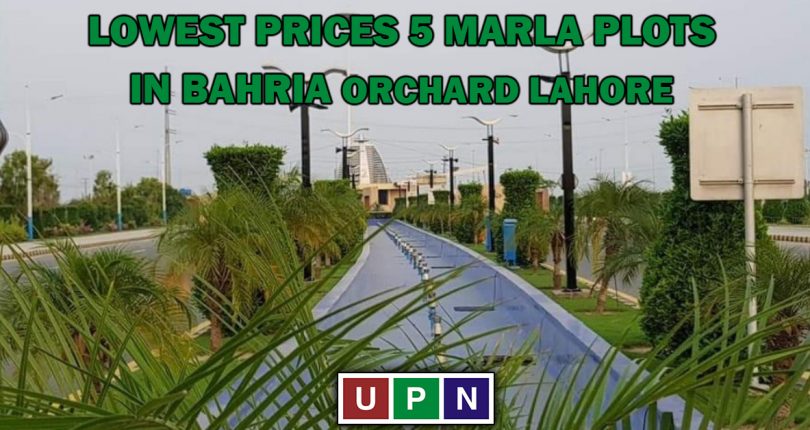 Bahria Orchard Lahore is known as the best housing society to buy 5 Marla plots. It has a wide range of options available in Phase 1, Phase 2, Phase 4 and LCO Phase 2. But still, these plots are not enough to meet the demands of modern investors and buyers. Also, many people find 5 Marla plots prices high, making them unable to afford it. So, to provide these buyers with something best, Bahria Orchard's management has launched the lowest prices on 5 Marla plots.
Yes, a new deal of plots is launched in Bahria Orchard Phase 2, offering the best location for 5 Marla plots. These are open form plots available with the payment schedule of 1 month. Further details are:
Lowest Prices 5 Marla Plots – New Deal in Bahria Orchard Phase 2
This new deal of plots is available in LCO Phase 2, basically the extension of Bahria Orchard Phase 2. It comprises three blocks, K, L, and M.  However, this open form plots' deal is launch in L Block.
The location of the plots is easily accessible from both Jati Umrah Road, where Gate no 6 is ready. Moreover, anyone can also approach this location from Main Raiwind Road.
The launching prices of plots are also attractive, making these lowest prices 5 Marla plots ideal to buy. These plots will cost you around:
5 Marla General Plots Prices: 38 lacs
5 Marla Category Plots Prices: 40 – 42 lacs
Remember: These are the launching prices that will increase with the time passage. Soon these lowest prices 5 Marla plots will be available with premium.
Booking of the plots is possible with a 50% down payment, while the rest will be payable within 1 month.
First Comes First Served Option
LCO Phase 2 is a new addition in Bahria Orchard Phase 2. It is developing at a good pace of development. Most of the infrastructural work is complete, while the remaining is in the process. Despite these factors, the demands of plots in all of its three blocks are high. Now the launch of this new deal is adding more charm to this place. But the availability of the plots is limited. So, buyers will be served o a first come, first-served basis.
Lowest Prices 5 Marla Plots – Do Invest Today!
Currently, all the new deal plots are available at the launching as well as the lowest prices. However, once these options sold out, you will only find them by paying profit, therefore, buying at these lowest prices 5 Marla plots is 100% good for people want to make short- or long-term investment in Lahore.
So, do not miss out on this golden opportunity of investment in Bahria Orchard Phase 2 and book your plot right now!
Contact us for further assistance.
Please contact Universal Property Network  For More Information click here or visit our youtube channel further assistance