Lowest Prices Plots of 250 Sq Yards Near Rafi Cricket Stadium
by UPN
May 4, 2021
0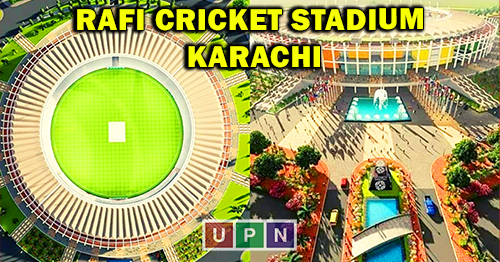 Rafi Cricket Stadium is one of the main attractions of Bahria Town Karachi. The surroundings of this stadium is full of numbers of residential and investment opportunities. Here you will find the residential plots of 250 sq yards in abundance. However, if you search for a life-changing, affordable investment opportunity, then invest in Precinct 34. This precinct is located near Rafi Cricket Stadium and offering the lowest prices plots of 250 sq yards. What is the exact location, prices of the plots, development and amenities in this precinct? Get all these answers one by one in the article below:
Location
Precinct 34 is located at 15 to 17 KM from the main gate of Bahria Town Karachi. It is the first precinct of Bahria Sports City, one of the main sub-projects of this society. This precinct is located ideally on Main Jinnah Avenue and enjoys the proximity to Rafi Cricket Stadium. Precinct 34 also lies close to Eiffel Tower, which is another main landmark.
Plots and Their Prices
The plots for sale in Precinct 34 are available in the size of 250 sq yards. Plots prices are reasonable as compared to many of the precincts located close. As mentioned earlier, it's a precinct with a prime location of Jinnah Avenue so, the plots close to the main are available at the price of 45 lacs to 55 lacs. Similarly, the residential plots at the back or a short distance from the main avenue will cost you around 37 lacs to 43 lacs. All the plots of Precinct 34 are on-ground and available with possession.
Nearby Attractions
The surroundings of Precinct 34 are very much beneficial. This precinct is lying close to Rafi Cricket Stadium, have Eiffel Tower lies in front of it, and ready to move properties nearby. Yes, the villas of Precinct 35 and Precinct 31 are very close to these plots of Precinct 34. Both of these villa's projects have an increasing ratio of inhabitation. Even it is a fact that investors and buyers invest more in the surroundings of areas having population.
Not only the location but the surroundings of Precinct 34 ensure the high potential for investment in its plots. Another reason to invest in Precinct 34 is the close location to Precinct 26, which is ready to host Bahria Town Head Office within the next few months. Once the development work of Rafi Cricket Stadium completes and it gets operational, the property prices in Precinct 34 will surely increase. This is the right time to invest in Precinct 34, the lowest prices plot of 250 sq yards. Make the final decision today and contact us for further details!
Please contact Universal Property Network  For More Information click here or visit our youtube channel further assistance