Where to Make Investment in Stock Market or Real Estate Market?
by UPN
March 3, 2020
0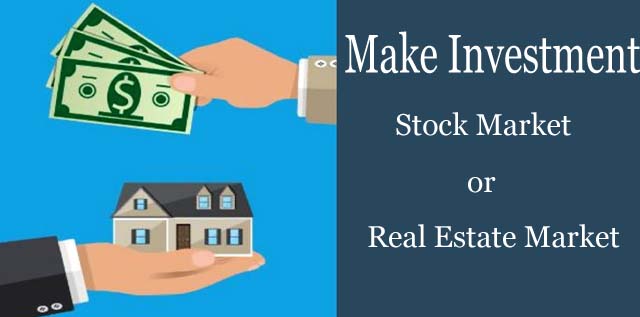 Making an investment in anything is definitely a wise decision as it helps us to save money and also makes us financially stable. Basically, it concerns to buy things that will generate profits- Return on Investment- for us. No doubt, investment in any asset is our own decision to get financially independent. However, it is not as easy as many thinks. It takes a lot of perseverance and research.
There are so many investment opportunities in Pakistan. However, investing in real estate and in the stock market usually returns with more profit. But at the same time, deciding the best option between these two is quite difficult. Some people like to invest their money in the real estate sector and also stocks require lesser capital for investment.
So today, we will discuss which option is the best Stock Market or Real Estate to make the investment in Pakistan.
Why You Should Invest in the Real Estate Sector Of Pakistan?
Investing in the real estate sector is an amazing way to achieve your goals with long term investment. There are a number of options available so that you can choose according to your budget. You can invest in a project or can buy a piece of land, apartments or even a building. Investment in real estate will make you able to be an owner of visible assets.
By making the investment in property, you will become an owner of it and you have the complete charge of
You can sell this property after earning a handsome profit or can rent it out to earn regular rental income.
So overall, investment in real estate is a good option. There are a few chances of any financial loss. Buying property in top-rated and legal societies will offer you different safe and secure investment opportunities. Moreover, people who invest in real estate get exemptions for tax on any gain they earn from their property investment.
Things to Consider Before Real Estate Investment
It is important to mention here that real estate investment will return you with good profit. But it is not a cup of tea where you will earn quickly with short term investment. So, it takes a lot of patience and perseverance.
Moreover, you will need to have a large capital to make an investment in any property.
Bigger will be the capital, the more will be the risk associated with it. So, it is important to make proper research and invest in legal and more attractive properties.
Choose the property with good approval status.
Do check the fixed costs that are linked to your desired property such as the cost for maintenance, and the cost of renovation, etc.
Is Making Investment in Stock Market is Good?
If you are really planning to make the investment in something to earn well in returns, but you don't have a large capital at ones, so investing in the stock market is a wise decision. Trading in the stock market of Pakistan is a good option for those who want to make a profit.
With the stock investment, you will indirectly get a share in a business or an organization. When that company will make a profit, you will also earn a good profit through it.
Pros in Stock Market Investments
Stocks are actually liquid assets. Technically, it means that you will get the profit in the form of actual cash within a very short time period. So, if you desire to earn quickly, you can choose this option. Moreover, there are no heavy taxes or any fees on Stock Market investments.
Risks In Stock Market Investments                        
No doubt, stock market investment is a good option to earn handsome returns but there are many risks associated with it. Your earning will depend on your analytics. Without proper market knowledge, it is impossible to earn in the stock market.
The degree of control in the stock market is lesser in comparison to investing in real estate. Investment in the stock market is at the same time highly risky and unpredictable. So, it is better to do research before making investing in stocks.
 Stay Updated with Universal Property Network!
Check out our site for more detail. Latest News