Naval Anchorage Gwadar Balloting Date Announced
by UPN
November 30, 2017
0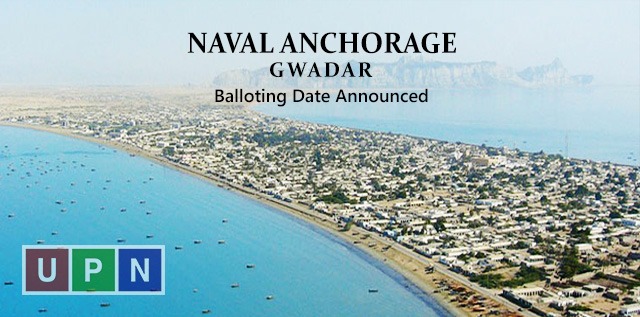 Finally the balloting date for balloting of Naval Anchorage Gwadar Plots has been announced. According to the official website and messages sent to applicants, Naval Anchorage Gwadar balloting will be conducted on December 05, 2017. Like the launching ceremony, balloting ceremony will be conducted in Bahria Auditorium Karachi. Don't forget that Naval Anchorage Gwadar is the first ever residential project by any branch of Pak Armed Forces in Gwadar.
Naval Anchorage Gwadar Balloting
The Balloting process will start at 3:30 pm in Bahria Auditorium on Tuesday, 5th of December. All the applicants have been invited by Pakistan Navy to attend the grand ceremony and witness the balloting process themselves. Applicants have been asked by Pakistan Navy to acknowledge their presence at the event on following numbers:
051-20063214
051-20063994
Fax: 051-9261102
Naval Anchorage – A brief Introduction
Naval Anchorage Gwadar will consist of nearly 1450 acres of land. All the land has been acquired by Pakistan Navy and Gwadar Development Authority has given an NOC approval to the society as well. Residential plots were offered for booking after the scheme was launched in August 2017. Application submission process concluded in October 2017 and now within 2 months, balloting is going to be held. Residential plots in Naval Anchorage Gwadar are offered in following sizes:
5 Marla / 125 Sq. Yard
10 Marla/250 Sq. Yard
1 Kanal / 500 Sq. Yard
2 Kanal / 1000 Sq. Yard
Affordable payment plans have been offered by the developers for successful applicants who will get allotment of plots in the housing scheme. Impeccable features, backing of Pakistan Navy and GDA approval attracted amazing response for Naval Anchorage Gwadar. Previous success of Naval Anchorage Islamabad also strengthened the case of this investor-friendly project.
The project is spearheaded by Pakistan Navy Benevolent Association, welfare arm of Pakistan Navy. ProMag, development agency involved in DHA Multan, is also given the task for development in Naval Anchorage Gwadar.
For any further details regarding Naval Anchorage Gwadar or any other real estate project, please contact UPN.