New Deal Launching in Bahria Town Lahore
by UPN
December 6, 2020
0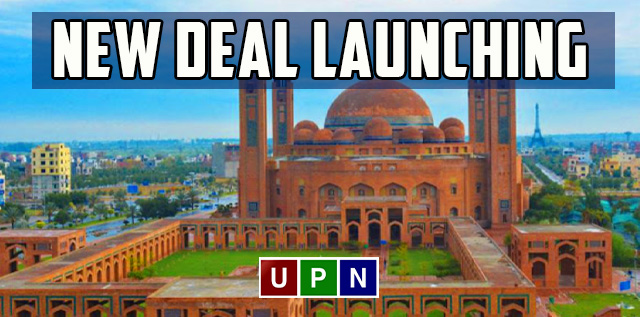 Are you looking to buy residential or commercial plots in installments? The plots that are on-ground, ideally located and surrounded by all the latest-day amenities? If yes, then get ready to invest in the new deal launching soon in Bahria Town Lahore! It doesn't seem easy to believe, but Bahria Town Lahore is indeed all set to provide you with the best plots in different categories and sizes. This new deal of plots is coming in the proximity of Overseas B Block, Overseas B Extension and close to Talha Block. But what are the size of the plots and the prices? Check the details below:
New Deal of Residential and Commercials in Bahria Town Lahore
Bahria Town Lahore is a top-class housing project where the demand for plots is increasing day by day. Not only locals but overseas investors always remain searching for new and exciting property deals in it. To meet this increasing demand for property, Bahria Town will soon launch a new deal of 5 Marla, 10 Marla residential plots. These are around 150 to 200 plots available on a first-come, first-serve basis.
Also, the best-located commercial plots and sector shops will be offered at affordable rates. Plots will be available on an easy installment plan of six months up to 1 year. Booking can be made with a 50% down payment, while the remaining amount will be payable at the time of possession (hopefully within six months). Moreover, all these residential and commercial plots are on-ground and available with plot numbers.
Location of New Deal Coming Soon
This new deal of plots comes at the backside of Overseas B Block and Overseas Extension Bahria Town Lahore. These plots are located outside the boundary located in these blocks. It is also important to mention here that Bahria Town has recently purchased this land and now it is also a part of Bahria Town Lahore. Once the development work begins, the boundary wall will be demolished, and these plots will become part of already existing blocks.
Not only these two blocks, but Talha Block is also located close to these blocks. Maybe Bahria Town will connect this area with Talha Block Sector F to give its residents easy access. But, this is not yet confirmed.
Benefits to Invest
This new deal coming soon is quite profitable to invest in. First of all, these plots are located in an already developed and populated area. Secondly, plots are on-ground and will be available with plot numbers. Third and most importantly, Bahria Town will launch these plots in easy installments. Overall, buying in such plots will be highly beneficial for both residential and investment purposes.
So, get ready
For booking, or selling, please contact Universal Property Network today!
For More Information click here or visit our youtube channel