New Year 2022 Celebrations and Firework in Bahria Town
by UPN
December 29, 2021
0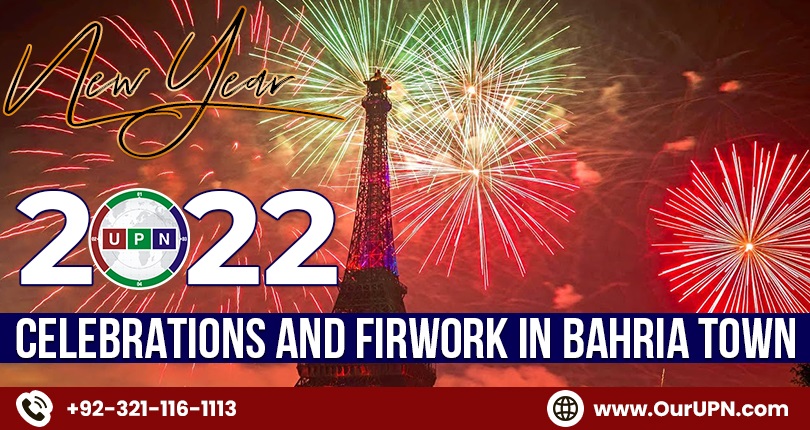 Every New Year brings hope, keenness, happiness, and celebrations with it. Every country celebrates New Year Eve, but Bahria Town has a tradition to turn this eve into the biggest party of the year. Once again, the time for celebration is just around the corner! So, get ready, Pakistanis, to experience the remarkable and heart-winning New Year 2022 celebrations in Bahria Town Lahore and Karachi. Following its tradition to celebrate the new year with a lot of spirit and joy, Bahira Town Pvt. Ltd is all set for great, grand, and mesmerizing celebrations of New Year Eve at their significant landmarks. Bahria Town Lahore Fireworks 2022 will be great and grand!
So, Get, Set, Ready to Welcome the New Year 2022 with lots of Masti, Maza, and Music!
Bahria Town Lahore Fireworks 2022
It's time to prepare for the most-awaited, heart-stopping celebrations of New Year Eve 2022 in Bahria Town Lahore. The preparation for the glamorous celebrations has begun. These Bahria Town Lahore Firework 2020 was the biggest reason for people's smiles. Bahria Town New Year celebrations make people enjoy wholeheartedly. It's an event where families' cheer and enjoy themselves with their loved ones.
This year, the Bahria Town administration is arranging the mesmerizing fireworks, family's fun gala, music concerts at their sites. Additionally, there will be delicious meals to serve your taste buds, live music to feed your ears and games to fill your pockets with the biggest surprises.
Get ready Pakistanis to welcome 2022 uniquely with Bahria Town Lahore.
Venue:
Eiffel Tower – Bahria Town Lahore
New Year Eve Celebrations Will Begin 5 PM Onwards.
Bahria Town Karachi Fireworks 2022
Bahria Town is a trendsetter in celebrating New Year Eve exceptionally with eye-catching fireworks. This year, one of the biggest celebrations will be arranged at Bahria Town Karachi Eiffel Tower.
Bahria Town Karachi New Year celebrations will have amazing fireworks, lots of arrangements on Bahria Dancing Fountain, live music concerts, unlimited fun and mastic, joyful games, and delicious foods.
Venue:
Eiffel Tower – Bahria Town Karachi
New Year Eve Celebrations Will Begin 5 PM Onwards
It's time to say goodbye to 2021 with a great New Year Eve Treat!
Bahria Town Islamabad Fireworks 2022
When everyone in Lahore and Karachi celebrates in Bahria Town, then why are the people of twin cities left behind? Well, you all also have to be ready to experience the celebrations that never happened before!
A great, grand celebration, party, concerts, and food fest will be arranged in the heart of Bahria Enclave Islamabad.
Venue:
Trafalgar Square – Bahria Enclave Islamabad
New Year Eve Celebrations Will Begin 5 PM Onwards
Be Well-Prepared to Enjoy with Your Families on New Year Eve 2022.
New Year Celebrations and Bahria Town
After experiencing Bahria Town Lahore Fireworks 2020 and 2021, everyone is eagerly waiting to welcome the New Year 2022. Surely, it will be the biggest celebration opportunity for the people who can move to Bahria Town Lahore, Bahria Town Karachi, and Bahria Town Islamabad.
Not only the residents of Bahria Town Housing Societies, but it's an open invitation for everyone. Let's experience the dazzling display of rockets exploding at the stroke of midnight. Like every year, on this 31st December 2021, a vast crowd will witness the New Year Eve Celebrations at Bahria Town.
Mesmerizing Hangout and Happy Moments Awaits You
Are you still considering visiting the Bahria Town' site for New Year Celebrations or not? Then, don't miss this chance. By visiting these spots of celebrations, you will indeed have a great hangout, quality time, and happiest moments with your families.
Adding here: these will be not only the New Year Celebration Ceremonies, but a Grand Family Festivals, everyone desires to visit.
No Entry Fee – What Else Can Be More Attractive?
Bahria Town Lahore, Karachi, and Islamabad organise grand family festivals and celebrations. But the most exciting news is that you can visit the sites without paying a single penny. No entry fee will be charged to you. No entry fee or any ticket because Bahria Town wants maximum participation of people in these grand New Year Celebrations on 31st December 2021.
It's time to mark your calendars, set reminders, and preparations to visit Bahria Town to witness something unique and heart-winning. Be a part of this New Year 2022 Celebration at Bahria Town!
Please contact Universal Property Network For More Information click here or visit our youtube channel further assistance