Bahria Sports City Villas Updates 2022
by UPN
December 29, 2021
0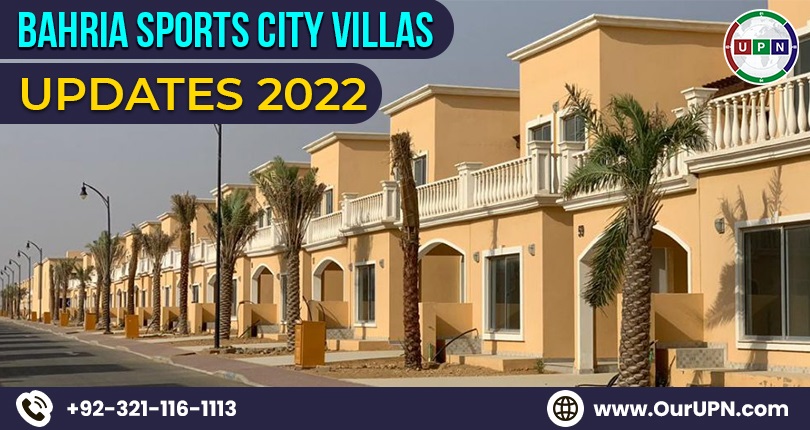 Are you looking for a house in Bahria Town Karachi? Do you want to invest in a luxurious villa for sale in the heart of this mega society? Then, be confident to choose the best 350 sq yards Bahria Sports City Villas.
These are Sports City Villas, the popular development in Bahria Town Karachi. Offering accommodation of 4 bedrooms, these are the perfectly planned villas one can choose. Further details of this project are:
Bahria Sports City Villas Bahria Town Karachi
Location
As the name depicts, Sports City Villas are ideally located in Bahria Sports City. The actual location of these appealing villas is Precinct 35 in the proximity of Rafi Cricket Stadium. Located at a distance of a few kilometres, these villas are easily accessible. The surroundings of Bahria Sports City Villas are attractive and very much beneficial. One of the biggest attractions in Pakistan's largest cricket stadium, a shopping gallery in Precinct 33, Imtiaz Super Store, Theme Park Karachi and so on.
Development Updates
Sports City Villas is a mega project with a large number of luxurious living spaces for sale. The development work of these villas has been completed so far. A large number of families are living there. Possession/keys of villas are available. However, still, few villas are near completion. Their finishing work is going on smoothly. Hopefully, their keys will be available by the next 6 – 8 months.
Launching, Previous, and Current Prices
The launching prices of these 350 sq yards luxury villas were 1.45 crores. The booking of these villas was provided with 4 years of easy installments. But currently, all these options are only available in full cash. The launching prices of Sports City Villas was reasonable. Even after the families started moving there, the rates were between 1.60 crores to 1.90 crores. The latest prices are quite different from it. The very impressive Sports City Villas are now available at the starting prices of 2.40 crores to 3. 30 crores. This huge difference in the prices is because of the villas' location and development.
For example, a without key villa will cost you between 2.40 crores to 2.75 crores. On the other hand, the beautiful villas with keys are available in the price range of 2.90 crores to 3.30 crores.
Future of Bahria Sports City Villas
The future of Bahria Sports City plus these luxury villas is very bright. Undoubtedly, the prices of villas are increased. But still, there is huge potential in them. Hundreds of families live there, and the numbers are growing day by day.
However, the prices and the residence ratio will continue to increase due to the heart-winning surroundings of Rafi Cricket Stadium. Yes, the latest prices of villas are around 3 crores. But once this Pakistan's largest cricket stadium gets operational, the same villas will be available in 5 – 6 crores.
So, people with the desire for a peaceful and comfortable living can confidently choose these beautiful villas for sale in Bahria Town Karachi.
Please contact Universal Property Network For More Information click here or visit our youtube channel further assistance