Orchard Homes Possession Announced?
by UPN
August 31, 2022
0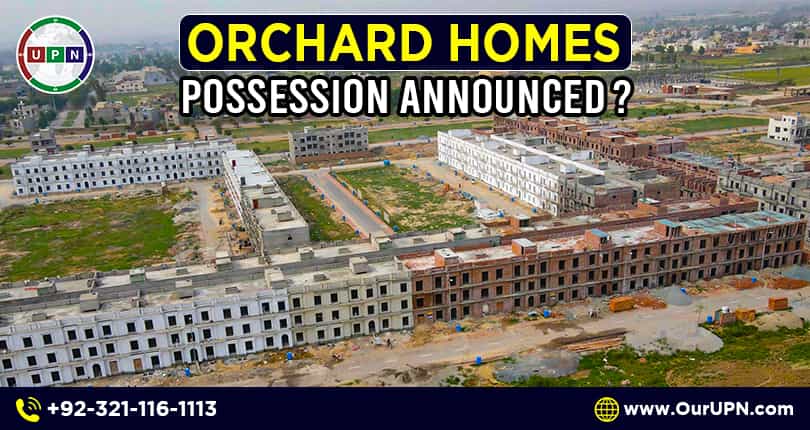 Announced almost 2 years ago, Orchard Homes possession is announced soon. These are triple-storey 5 Marla homes designed and beautifully developing under the banner of Q-Links developers. Planned perfectly, these houses are among the top residential options in Bahria Orchard Phase 4. Undoubtedly, they are in an outstanding location.  Comes with all the trending amenities essential for modern living, these are ideal living spaces.
Launched with a three-year flexible payment but currently, you can purchase with an ongoing payment plan and increase prices. The latest development status of this project is amazing. You will surely like to learn more.
Orchard Homes Latest Development Update
The development work of Orchard Homes was started so far. These incredibly beautiful houses are speedily developing on the site. As per the latest site visit, almost 95% of the project's development work is complete. Only 5% is remaining which would be completed soon. Yes, the building structure along with the eye-catching white finishing of these 5 Marla houses is visible from a far distance. That's the reason Orchard Homes possession is coming soon.
Orchard Homes Bahria Orchard Phase 4 – Latest Prices
Yes, these appealing houses of 5 Marla were launched at affordable rates. At the time of launch the ground floor 5 Marla apartment was available in 38 lacs. On the other hand, the first and second floors prices were low. But the latest prices are a little bit different from the launching prices.
Currently, you can purchase the ready-to-possession ground-floor apartment for sale in Bahria Orchard for 60 – 65 lacs. The first-floor Orchard Home apartment will cost you between 55 – 60 lacs. Similarly, the demands for the second-floor apartments are around 45 – 50 lacs only. The booking of these heart-winning homes is still possible with reasonable percentages of down payment. The remaining amount will be payable in the ongoing payment plan and installments.
Orchard Homes Possession Announced?
As these Orchard Homes are among the top trending properties of Bahria Orchard Phase 4, everyone wants to know about its possession. The number of queries we received is also increased due to the speedy site development. But don't you worry as the Q-Links management has already announced to handover of the possession in the next 2 – 3 months. Be happy as you will soon have the keys to your dream residence.
Accommodation Details
Orchard Homes are 2-bedroom independent apartments with attached bathrooms, a spacious kitchen, a tv lounge, and a balcony. Also, you will get spacious parking and lots of amenities to spend a high-level lifestyle.
Reasons to Invest In
Whether you are a buyer or an investor looking for some beneficial opportunities on Raiwind Road, you should invest in Orchard Homes. One of the most significant reasons to choose these soon-to-be-ready apartments is the quick gain. Yes, the prices and demands of these houses are increasing day by day. People planning to relocate to Bahria Orchard Phase 4 are finding these 5 Marla independent apartments suitable for many reasons.
The current prices are between 50 lacs to 65 lacs. But once the possession is handover, you will not be able to get this price. There will be a sudden jump in the rates. The expected rates will be between 65 lacs to 85 lacs.
So, missing out on this impressive opportunity for profitable investment in Bahria Orchard Lahore will be disturbing. Orchard Homes possession announcement is adding worth to this project. Starting from the location, quality, and development status of these houses, everything makes it a good option to consider in Lahore.
Frequently Asked Question
Here are the answers of some common questions about this project.
When the possession of Orchard Homes will be handover?
It is coming in the next 2 – 3 months as the development work is near 100% completion.
Is Orchard Home a good choice for residence?
Yes, these are the best houses in Phase 4 where you will be able to enjoy quality lifestyle with your family.
Can we invest in Orchard Homes to grow our capital?
Why not? These are the perfect houses of 5 Marla where you can make secure and profitable investment. You will surely get handsome returns as per your desires.
Please contact Universal Property Network. Visit our Youtube channel for further assistance.