Overseas Villas – New Deal of 5 Marla Villas in Bahria Orchard Phase 2
by UPN
January 7, 2021
0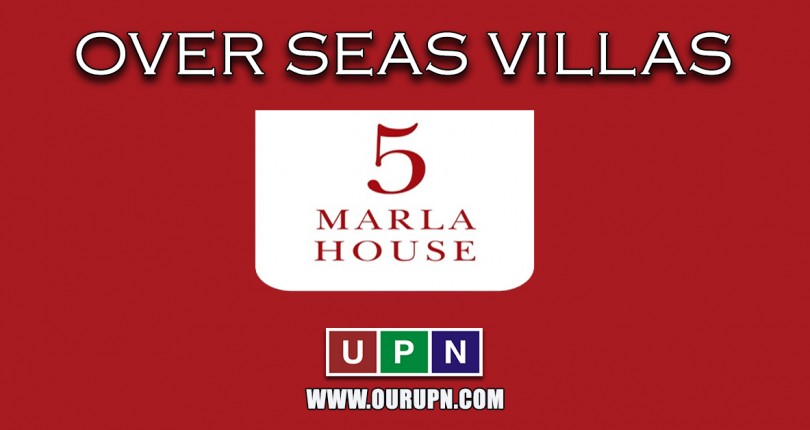 Overseas Villas is a newly launched project. It is a new deal of 5 Marla double-storey villas in Bahria Orchard Phase 2 Lahore. Presented by Q-Links Developers, Overseas Villas are the luxurious 5 Marla houses where the great living and investment opportunities are waiting for you. This villas project is a great addition in the portfolio of Bahria Orchard Phase 2, having an excellent location and convenient payment plan. So, do you want to elevate your living standards? Or desire to make a safe, futuristic, and beneficial investment in Lahore? Overseas Villas Bahria Orchard Phase 2 perfectly meets the expectations and requirements of modern clients.
Overseas Villas Bahria Orchard Phase 2 – Size, Location, Prices and Bookings
These are 5 Marla double unit houses which perfectly elaborate the true meaning of luxury, comfort and quality. These villas are designed spaciously and modernly, fulfilling all the latest concepts of architecture. These are not just a better living place, but you will also get fruitful investment returns in the coming time. This latest project by Q-Links is all about advanced, safe and affordable living in Lahore. Overseas Villas are launched with advanced construction plans which are visible in everything.
Overseas Villas are 5 Marla double-storey houses comes with the accommodation of 3 beds and 4 beds. The launching prices of 3 Bed Overseas Villas is 72.90 lacs while the 5 Marla villa with the accommodation 4 beds are available at the total price of 77.90 lacs. Booking of the villas is started, and you can book your Overseas Villa in Lahore with a down payment of 12.50 lacs. The booking price for 3 bed and 4-bed villas is the same.
The amount of 12.50 lacs will be payable on balloting, hopefully, held within 2 to 3 months of bookings. The payment plan of Overseas Villas Bahria Orchard Phase 2 is spanning over 3 years. Possession of the villas will be handover within 2 years. It means that you will get your villa ready before the completion of its payment plan.  There are 36 monthly installments in the payment plan while 13.70 lacs will be payable at the time of possession.
Check the complete payment plan below:
Overseas Villas Bahria Orchard Phase 2 Payment Plan
| | | | | | | | |
| --- | --- | --- | --- | --- | --- | --- | --- |
| Unit Type | Category | Area | Price (PKR) | Down Payment | On Balloting | 36 Monthly Installments | On Possession |
| 3 Bed | Standard | 5 Marla | 7,290,000 | 1,250,000 | 1,250,000 | 95,000 | 1,370,000 |
| 4 Bed | Standard | 5 Marla | 7,790,000 | 1,250,000 | 1,250,000 | 108,889 | 1,370,000 |
Important Note: The Overseas Villas' location ballot will take place within the 2 -3 months of booking. However, you can book your desired villa from the map by paying the down payment + balloting amount at the time of booking.
Overseas Villas -Location Details
Location is the most important factor that we consider before investing in any property, and the location of Overseas Villas is amazing. Q-Links Developers has chosen the best location for the establishment of Overseas Villas in Bahria Orchard Phase 2. These villas are ideally launched in the OLC-B Block of Bahria Orchard Phase 2 Lahore. OLC B Block enjoys excellent connectivity with the main boulevard of this society.
If you are moving from Adda Plot towards Raiwind Road, Bahria Orchard Phase 2 is located at a distance of 3 KM. You can easily approach these Overseas Villas by entering from Gate 1 located at the right side. The best commercial markets, pharmacies, restaurants, departmental stores, Arena Cinema, and Bahria School, is located nearby.
OLC B Block is almost located at the distance of a half kilometre from the main entrance. The Overseas Villas location is easily accessible on the drive of 2 minutes from the Gate 1 Bahria Orchard Phase 2.
Overseas Villas' adjacent location to all the important facilities makes it the favourite destination for living and investment in Lahore. Undoubtedly, such an excellent and prime location of any project set the worth high of the property in the present and in the coming time.
Residence and Investment in Overseas Villas Bahria Orchard Phase 2
Before discussing the reasons to reside and invest in Overseas Villas Phase 2, it is important to reveal that these are double unit homes. It suggests that the separate entrance to the villa's first floor is given from car porch. Families who want to live in the luxurious 5 Marla homes in Bahria Orchard as well as want to generate good rental income can confidently buy Overseas Villas. In other words, you can easily use one portion of the house for residence while the other to earn handsome rental income.
Moreover, it is a good opportunity for potential investors who desires to earn futuristic returns on investment. The location of this project is excellent and beneficial in all terms. Also, the payment plan is thoughtfully designed as per the requirements of investors.
The reasonable rates, the ease of payment plan, ideal location, advanced architecture, lots of facilities, all these things are brilliantly gathered in Overseas Villas.
Booking Criteria
Down Payment which is 12.50 lacs
Copy of Your CNIC
CNIC Copy of Nominee
Passport Size Pictures
Valid Email Address and Contact Information
 Customized Payment Plan Facility
Q-Links Developers are also offering the facility of a customized payment plan. This option is provided for the buyers who desire the completion of there villas within 1.5 years. So, if you plan to move into your villa within the period of 1 to 1.5 years, you can ask for the customized payment plan confidently!
While concluding the details, we can say that Q-Links Developers provide you with a life-changing investment opportunity in the form of Overseas Villas. All the striking features and smart facilities are well-combined to make this project perfect in all the terms. You can choose Overseas Villas Bahria Orchard Phase 2 to live your dream lifestyle as well as to make profitable investment Lahore.
So, don't miss out this golden chance and do invest in the best villas for sale in Bahria Orchard Phase 2 right now. Contact  Universal Property Network  For More Information click here or visit our youtube channel further assistance