Precinct 17 – Bahria Heights Karachi New Booking Details, Prices & Payment Plan
by UPN
May 27, 2019
0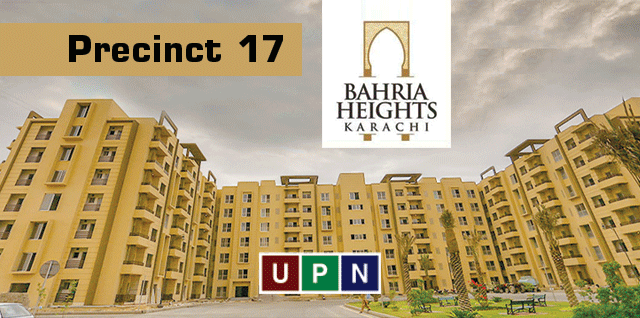 Bahria Town Karachi has recently launched new booking of Bahria Heights Apartments and shops in Precinct 17 on 3 years installment plan.
Bahria Heights is basically a project that is designed 2 bedroom luxurious apartments' measures 1100 sq. ft. of land. This project is popular among buyers and investors for the reasonable prices of apartments, ideal location and so many features and facilities.
History & Details
The project was started in 2014 when the first booking was launched at 50 Lacs for an 1100 Sq. ft. apartment. In the early stages of booking the project was comprised of several apartment towers, starting from Tower A up to Tower L that is located close to Grand Jamia Masjid opposite to Precinct 8 as well as Precinct 12.
Second Booking
In 2016, Bahria administration has launched its second booking at 72 lacs and that time the booking was offered for limited numbers of apartments available in Tower J and Tower L.
Third & New Booking
And today, we are going to share the latest updates and details of this third booking launched for Bahria Heights Apartments and the booking price is above 9 million.
Location of New Apartments
New apartments are located in Precinct 17, where Bahria Town has already reserved a large area for Bahria Heights. Bahria Heights is ideally located at the prime location of Bahria Town Karachi. These 2 Bedroom apartments are located just at the right side of Main Jinnah Avenue. In the left, there is the nearest attraction of Ali Block that is one of the most popular blocks of this largest housing community. Precinct 8, Midway Commercial, & Bahria Hills are beautifully located in the surroundings of Bahria Heights.
Development & Booking Details
The development work in Precinct 17 is moving at a satisfactory pace and the area will be soon become one of the most attractive places for residency.  In this new deal, the booking of new shops and new apartments is launched by the administration and the details are provided below:
In this new deal, you can easily buy a 2 Bed apartment and a shop of 350 sq. ft. or 300 sq. ft. on the easy payment plan of 3 years. It is also announced that these apartments and shops will be ready for possession within 2 years.
Booking Plan for Apartments
Apartment Size: 1100 Sq. ft.
Total Price of Apartments: 95, 50,000/-
Booking Price: 15, 50,000/-
Installment Price: 6, 70,000 x 12 Quarterly Installments
Payment Plan of Shops
Shop Size: 350 Sq. ft.
Total Price of Shops: 80, 00,000/-
Booking Price: 16, 00,000/-
Installment Price: 5, 40,000/- x 12 Quarterly Installments
Shop Size: 300 Sq. ft.
Total Price of Shops: 70, 00,000/-
Booking Price: 4, 75,000/-
Installment Price: 3, 75,000/- x 12 Quarterly Installments
Last Date of Booking
The last date to submit the application forms for the booking of apartments, and shops is 31st of May 2019.
For more details and information just contact Universal Property Network.