Bahria Heights Possession Announced – Breaking News
by UPN
December 10, 2021
0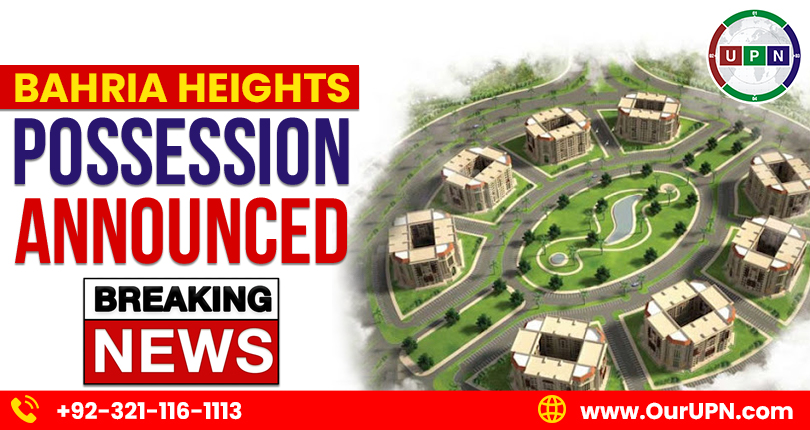 The wait is over, and the time has come! We Universal Property Network brings you good news that Bahria Administration has finally announced Bahria Heights possession. Congratulations to all the apartment holders of A and H Towers, as now they can easily move to their dream living spaces. All the buyers of these two towers can confidently apply for the possession of their apartments in Bahria Town Head Office. Further details are:
Bahria Heights Possession – Big Announcement
The administration of Bahria Town had finally announced the long-awaited possession of 2-bedroom apartments in Bahria Heights. This project is basically comprising several towers. However, the possession of Tower A and Tower H is now available. The development work of the remaining towers is also complete. Hopefully, they will also have possession by the next 6 – 8 months.
An Overview
It's a unique community concept offering luxurious living spaces in the heart of Bahria Town Karachi. Located ideally in the proximity of Grand Jamia Mosque, these are 2 beds apartments. This project has eight towers where the apartments of 2 bedrooms covering 1100 sq ft are available. The location of Bahria Heights apartments is the junction of Precinct 6 and Precinct 7. Moreover, Precinct 10 A and Precinct 11 A villas are also lying nearby.
Also, a limited number of shops are part of this project available on the ground floor.
Bahria Heights Latest Prices
The apartments in this project where the Bahria Heights possession is available are now available at the starting prices of 1.05 to 1.20 crores. In simple words, these are the prices for Tower A and Tower H. On the other hand, the high-rise buildings of Bahria Heights, where the possession is expected soon, will offer you apartments in 95 lacs to 1 crore prices.
An Expected Increase in Prices
Only 8 – 10 months ago, Bahria Heights apartments were available at the average price of 75 – 80 lacs. But after the announcement of possession in the next few months, prices begin to increase. The latest prices of apartments are in the bracket of 1 crore. But still, there is huge potential in these luxury living spaces.
People with desires to invest in apartments for living purposes or investment growth can invest in the remaining towers of Bahria Heights.
Bahria Heights possession for the two ready apartments is available. So, if you are interested in any of these apartments, you can contact us, we will surely arrange the best option for you!
Other Apartments Available in Bahria Town Karachi
This mega project is full of options and opportunities. If you desire to buy apartments, you will find several best projects such as:
Descon Towers
Paragon Towers
Bahria Apartments Precinct 19
Central Park Apartments
Apartments in the Projects of AQ Builders
Apartments in Dominion Builders Projects
Luxury Apartments in Californian Builders Projects
Most importantly, the living spaces available in many of these projects are still available with convenient payment plans. There is also the availability of 3 beds and 4 beds apartments for the people who want spacious apartments with bigger accommodation.
Contact us for further details and information!
Please contact Universal Property Network For More Information click here or visit our youtube channel further assistance