Properties Near Rafi Cricket Stadium Bahria Town Karachi
by UPN
October 4, 2021
0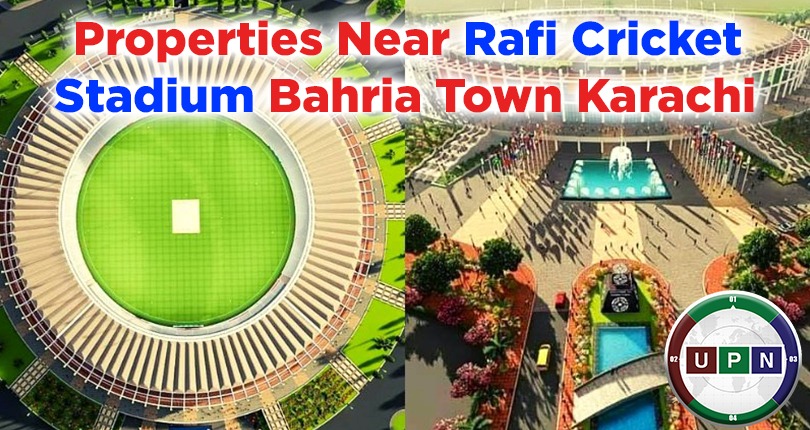 Properties near Rafi Cricket Stadium are among the high in-demand real estate investment opportunities everyone is looking for. Bahria Town Karachi as a whole is undoubted the perfect option to make a profitable investment. However, the mind-blowing development of Rafi Cricket Stadium in Bahria Sports City increases the value of this project more than the rest.
Bahria Sports City Karachi is a very beautiful sub-project of Bahria Town Karachi. It has the precincts from Precinct 34 to Precinct 40. All these precincts are in the surroundings of Rafi Cricket Stadium. The details of the properties are:
Properties Near Rafi Cricket Stadium Bahria Sports City
Bahria Sports City precincts are offering the best residential and commercial plots for sale. These residential plots are available in the sizes of:
250 Sq Yards
500 Sq Yards
1000 Sq Yards
Moreover, a wide range of commercial plots is available in several sizes. Recently a new deal of Stadium Commercial was launched in Bahria Sports City, providing the opportunity to construct multi-purpose ventures. So, soon several sizes of apartments will be available in the surroundings of Rafi Cricket Stadium.
Why Should You Invest in Properties Near Rafi Cricket Stadium?
One of the significant reasons to consider investing in the proximity of Rafi Cricket Stadium is the high investment potential. We agree that the prices of properties in Bahria Sports City are increasing but are not at their peak.
Yes, the prices of properties are still reasonable for investment. For example, the properties near National Cricket Stadium Karachi, Qazafi Cricket Stadium, and any other Sports Complexes are high in price. So, once this mega-development project, Rafi Cricket Stadium, will complete, the property prices will increase 4 – 5 times.
Giving an example: Sports City Villas are currently available in the price range of 2 crores to 2.50 crores. But in future, these villas will cost you around 4 crores to 5 crores. The latest prices of 500 sq yards villas in Bahria Hills are about 7 crores – 8 crores. So, why the villas of 350 sq yards will not cost 4 – 5 crores with an attractive location to cricket stadium?
Investment in Bahria Sports City Karachi
All the living facilities are available in Bahria Town Karachi. There are several schools as well as a university. Moreover, there are around 15 – 18 operational banks. Parks, entertainment points, supermarkets, petrol pumps, everything is available to facilitate Bahria Town residence.
Yes, we agree that distance is a hurdle, and that's why people think before investing in Bahria Sports City. But soon, Bahria Town will develop new entrances of this society and most probably in Bahria Sports City. So, after the new gate + the completion of Rafi Cricket Stadium will provide its investors with returns of their dreams.
Contact us for further assistance.
Please contact Universal Property Network  For More Information click here or visit our youtube channel further assistance