Q Links Projects Prices Increasing Soon
by UPN
July 2, 2022
0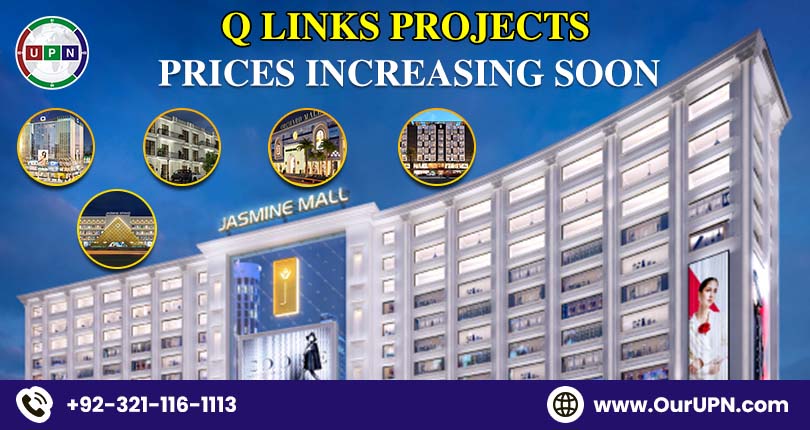 Q Links Developers are undoubted the biggest private developers in Bahria Housing Societies, especially in Lahore. They had successfully launched and delivered a number of projects offering investors incredible opportunities. Several new and exciting deals are still available; however, Q Links projects prices are increasing soon. Only a few days left. So, this is the ideal chance to book your desired option at affordable rates before the rates go high. It is also a life-changing opportunity for investors looking to make a quick profit through investment in real estate. Thinking about this and that will be like missing out on the chance of profits with your own hands. So, without any further delay, let us explore the complete details:
Q Links Projects Prices Increasing 10 – 25%
Recently, through a notification, the management of Q Links Developers has notified about the prices increase. All the properties under these developers, whether commercial or residential, will have an increase in the rates from 10 – 25%. They had also requested to close all your deals before or by 15th July 2022. After this given deadline, all the options will be available at new prices. Furthermore, the booking will be offered at increased prices, and the payment plans will be revised.
What Should You Do?
This increase in the prices is a notification, especially for those who desire to invest in Q Links projects by still thinking. It's the last chance to book their desired property at reasonable rates. Investors who want to make quick profits can also close their deals by 15th July to get good returns in the next few days. Investment in Q Links projects and available deals is highly beneficial.
Best Q Links Projects to Invest Today
Following are the best options where you can invest confidently before the time out!
The Gold Souq
The Gold Souq is a beautiful development, an impressive project with bundles of exciting opportunities. It is located on 210 feet LDA structured road near Eiffel Tower. The location of this project is the new commercial hub of Bahria Town Lahore. This project offers different sizes of shops for sale. The prices of shops start from 40 lacs and go high up to 1.50 crores depending on floor and size. Booking starts with 30% only.
Similarly, this project offers graceful Gold Suites. These are Studio and 2 Bed Apartments. The prices of these apartments are 49.50 lacs and 99 lacs, respectively. You can also book these apartments with a 30% down payment.
Jasmine Grand Mall
Another exciting project by Q Links Developers in Bahria Town Lahore is Jasmine Grand Mall. It's an ideally planned, modern venture, a proper commercial market. Featuring several floors, this mall is developing with different iconic projects such as Kids Galleria, Wedding Galleria, IT Hub and much more. The launching prices of Jasmine Grand Mall were affordable; that's why the entire project is sold out. However, investors can still get some limited options to invest in. Buying in this state-of-the-art project is 100% profitable.
Orchard Mall
People looking for profitable investment opportunities before Q Links projects prices increase can choose Orchard Mall. Located at the graceful location of Bahria Orchard Phase 4, this project offers the best commercial options. Developing at the fastest pace, this project features several top-class developments like Kidz Arena, IT Market and a supermarket in the basement. Limited inventory is available for sale in Orchard Mall Bahria Orchard Lahore. You can happily book the best, suitable option to earn maximum investment gains.
Q Bazaar
It's another profitable choice for investment in Q Links Projects. This mass market is located in proximity of Orchard Mall in Bahria Orchard Phase 4. It has a lucrative location and is easily accessible. Q Bazaar offers the best shops and offices for sale. Undoubtedly, this project is for small investors too, who desire to book attractive properties on easy installments. Booking in Q Bazaar shops starts at 30% only. However, these property prices are also increasing in the next few days.
Jasmine Mall Karachi
It is the first project of Q Links Developers in Bahria Town Karachi. Located at the prime location of Tauheed Square, it's a high-rise building project, even one of the biggest malls in Bahria Town. Providing investors with a chance of suitable investments in shops, showrooms, and hotel apartments, Jasmine Mall Karachi is a perfect choice to book your property. Its basement is completely sold out. However, some of the best options still await you on the ground, first and second floors. The prices of these shops are also increasing from 15th July 2022. So, this is the last chance to reserve your profitable property in Karachi. Hotel Services Apartments is also a good opportunity for investment growth and 8% annual rental gains. You will indeed find it the most suitable option in Bahria Town Karachi.
So, all details of the attractive property deals are available under the banner of Q Links Developers. Their projects are planned exceptionally, feature high standard development and offer heart-winning investment opportunities.
Frequently Asked Questions
Is Buying Worth in Q Links Projects?
Yes, these are renowned and trusted developers who have successfully delivered a number of projects.
When are Q Links Projects Prices Increasing?
These developers are increasing/revising the rates of their properties in almost all projects from 15th July 2022. After that, the booking will be available at new rates.
Is This Good to Book Property Before the Rates Increased?
Of course! It's a good profit-making chance for people looking for some quick profits through real estate investments.
Please contact Universal Property Network For More Information click here or visit our Youtube channel for further assistance.