Quaid Residencia Bahria Town Karachi
by UPN
February 21, 2023
0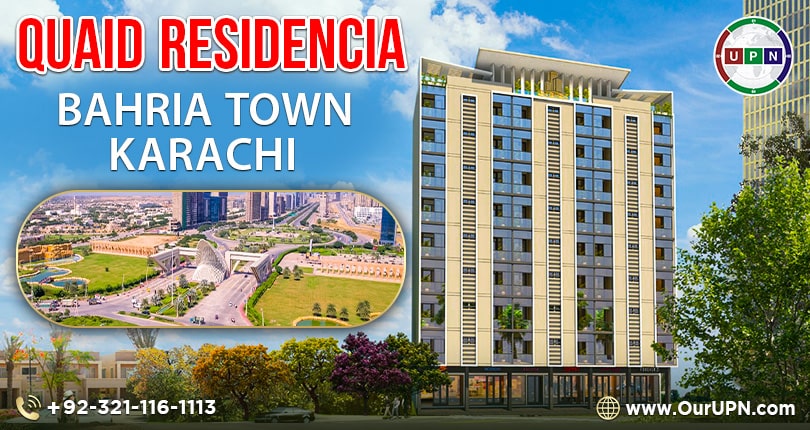 Here is the best high-rise development in Bahria Town Karachi called Quaid Residencia. It's a modern project that will properly define present luxury, class, and quality. The entire project is based on high and exclusive ideas of development. Located in the top-class location of Bahria Town Karachi, it's an attractive project with beneficial surroundings. Offering the best shops and apartments for sale, this venture is the center of attention for everyone. It's a development by California Builders who had smartly launched with incredible attractions. Further details are:
Quaid Residencia Project Plan
Spreading over the 3 plots of 133 sq yards, this project is covering an impressive land. It is developing on Quaid Commercials plots no 51, 52, and 53. All these plots are joined together to develop a masterpiece. It's a ground + 10 storey building. Its ground floor is designed with commercial shops of different sizes. On the other hand, the upper floors i.e., from 1st to 8th have residential apartments. The sizes of the apartments in Quaid Residencia are:
1 Bed – 415 sq ft and 435 sq ft
2 Beds – 815 sq ft and 835 sq ft
Each floor has a total of 7 apartments among which 3 are 2-bedroom apartments and 4 are 1-bed apartments. Its 9th and 10th floors are reserved for amenities. It will feature a community hall, kids' play area, mosque, and more.
Overall, this project is a complete package for residential and investment in Bahria Town Karachi.
Quaid Residencia Payment Plan
The properties for sale in Quaid Residencia are reasonable in price. That's the reason for all the options are sold out on booking. However, things are available for resale. Following are the payment plan details:
Quaid Residencia apartments booking starts with a 25% down payment. 10% of the total amount will be payable at the time of possession. On the other hand, there is a total of 8 quarterly installments in the payment plan. The plan for the apartments of this excellent project spans over 2 years. Please note: shops and apartments are only available for resale.
Quaid Residencia Location Map
Not only is the planning and development, but Quaid Residencia location also ideal and tactical. It is located in Precinct 2 on Quaid Commercials. This is already a well-developed location. It is among the most populated precincts of Bahria Town Karachi. Bahria facilities such as schools, hospitals, and shopping malls are closely connected to this precinct. At the same time, it is a very peaceful and beautiful location to live your dream lifestyle.
This high-rise project is only 5 minute drive away from the main gate. Precinct 1 is also within the walking distance. Bahria Hospital, Main Jinnah Avenue, Theme Park, and Carnival are a short distance. Many of the top-notch developments such as Precinct 19 apartments, and Imtiaz Super Store are nearby.
About Developers
Highlighted with excellence, this project is developing under the banner of California Builders. Quaid Residencia is a top-class development in Bahria Town Karachi where you will find yourself indulged in luxuries and quality. These developers had smartly planned the entire project and have already completed a number of other masterpieces. Some of their projects include:
Doctors Plaza
Tech Mall
Dress Mall
Wholesale Bazaar
California Residencia
Iqbal Residencia and More.
The high quality and professionalism of developers are evident in their every project. Hopefully, this project will be also completed as per the advanced standards.
Facilities You Will Enjoy
The residents of Quaid Residencia Bahria Town Karachi can experience all those facilities and comforts which they can only dream of in other projects. Here they will be facilitated in every walk of life. It is a highly exceptional place which is offering world-class amenities to people and profitable chances for investors.
This project is an exclusive place to spend a life packed with every essential. Some of the best amenities you will have hands are:
Modern Designed Building
Quality Construction
Spacious Lobby
Appealing Interiors
Parking Space
Eye-Catching Exteriors
Provision of Basic Necessities
High-Alert Security and CCTV Cameras
Maintenance Staff and Reception
Gym and Sports Facilities
Kids Praying Area
Modern Elevators
Location Near Theme Park
Completely Developed Area
Populated Surroundings
Conclusion
So, what are you waiting for? Come and book your property in Quaid Residencia. Buying property there will surely help you in getting the best returns on investment. Its apartments are equally good for residence, investment growth, and rental gains. Above all, your capital will be secure. You will surely find each and everything there highly appealing. Starting from the location, payment plan, class, and quality, this place is incredible.
Please contact us through WhatsApp, Contact Us form, or visit our UPN Youtube Channel for further assistance.