Rafi Cricket Stadium Karachi – Latest Updates
by UPN
June 23, 2021
0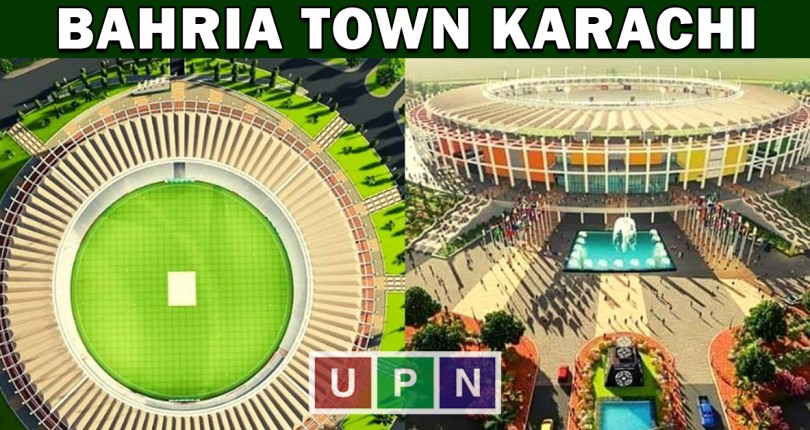 Pakistan's largest cricket stadium, Rafi Cricket Stadium Karachi, is impressively developing in Bahria Town Karachi. Launch a few years back at the prime location of Bahria Sports City; it's a mega-development in the biggest housing society of Pakistan. It is one of the major attractions of Bahria Town Karachi, developing as per the international standards of development. Having the capacity of 50,000 spectators, its design is approve by ICC. Once developed, Rafi Cricket Stadium Karachi will host the world's famous matches and championships. Also, we hope that some of the important matches of PSL 2023 will be played in Rafi Cricket Stadium.

Rafi Cricket Stadium Karachi – Development Update
The current development status of Rafi Cricket Stadium Karachi is quite impressive. The grey structure of this largest stadium is ready for a long time now. Also, it is visible from a good distance. Additionally, some important developments in this project, such as:
Teams are working on Sheer Walls. These walls are clean and polish. Further completion work on these walls is ongoing. Moreover, the work on grass leveling on the outer sides of the stadium is also under process. Heavy machinery, as well as hard working labor, is working on both the entrances of Rafi Cricket Stadium Bahria Town Karachi.
Rafi Cricket Stadium Karachi – Completion Date
The construction work on this largest cricket stadium in the country was started in 2018. According to the latest visit and analysis, more than 70% of the development work is complete. Therefore, the development speed on the site is satisfactory. However, the completion date of Rafi Cricket Stadium Karachi by Bahria Town Pvt. Ltd. is 2022.
Heart-winning Attractions of Rafi Cricket Stadium Karachi
Rafi Cricket Stadium holds importance for this thoughtful planning and amazing development. It has an appealing location and many attractions. Some of the significant features and attractions of Rafi Cricket Stadium Karachi are:
It is the largest cricket stadium in Pakistan, developing in Bahria Town Karachi.
Designed and developing as per ICC standards.
Have an impressive road network and infrastructure to facilitate the visitors in the best manner.
Rafi Cricket Stadium has a capacity of up to 50,000 people.
Featuring an international standard cricket stadium.
Have 2 cricket training grounds.
Fully-equipped gymnasium.
Largest swimming pool and hostel
It will have a proper floodlights system for day and night matches.
Rafi Cricket Stadium has LED Screens and Digital Scoreboards.
The architectural design of Rafi Cricket Stadium is by a GMP Germany.
Once complete, this cricket stadium will change the fate of properties available nearby. Bahria Sports City properties, including several sizes of plots and villas, are ideal to buy. However, the prices of these properties are gradually increasing. Therefore, this is the right time to make a smart and beneficial investment in Bahria Town before completing Rafi Cricket Stadium Karachi.
Contact us for further assistance.
Please contact Universal Property Network  For More Information click here or visit our youtube channel further assistance