Reasonable 2 Bed Apartments in Tower 25 & Tower 26 Bahria Town Karachi – Latest Updates
by UPN
March 3, 2019
0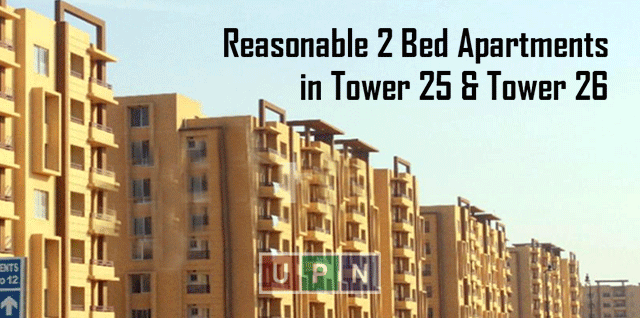 These days, many of our regular customers and investors are showing their keen interest in buying 2 Bed Apartments in Bahria Town Karachi. Especially buyers are interested in buying these flats for investment purpose. And at the same time, they are more interested in 2 Bed Apartment facing Main Jinnah Avenue.
But the fact is that the same apartments available in Tower 25 & Tower 26 that are quite reasonable in prices. It would be nothing wrong to say that these flats are simply the life-changing opportunity for investors.
2 Bed Apartments in Tower 25 & Tower 26 are reasonable in rates as they are under development phase. A buyer will have to wait for the next 6 to 8 months for the completion of these apartments. The prices of these flats are reasonable because of under-development status and there is only the difference of location. As soon as the development work completes, the demand for these apartments in Tower 25 & 26 will be the same as the 2 Bed Apartment available in starting towers.
The further details, location, prices, facilities, and all the attractions/ features of Bahria Town Karachi 2 bed apartments are given below.
2 Bed Apartments Location Overview
2 Bed Apartments are located in Precinct 19 that makes these are best as per as location. These apartments are located in towers. These towers are total of 26 in numbers. If we start discussing the attractions close to these 2 Bed Apartments than, Carnival and Theme Park and Bahria Day and Night Safari are located close to it.  The budget-friendly 2 Bed Apartments are the location in Tower 25 & Tower 26.
2 Bed Apartments- Tower 25 & 26 -Development Updates
These 2 Bed Residential Apartments of Tower 25 & Tower 26 were announced 4 years ago. But the development work of these apartments is started after much delayed. And now these days, the developments of these apartments are progressing at the fastest speed. It is expected that these apartments will become ready to move property in the next 6 to 8 months.
2 Bed Apartments Tower 25 & 26 – Latest Prices
Almost 4 years ago, Bahria Town Karachi has announced the prices for these 2 Bed Apartments starting from 26 lacs to 27 lacs. But now these 2 Bed Apartments of Tower 25 & 26 are available at the starting prices of 35 lacs to 45 lacs.
Investment Analysis
According to current market situations, these apartments of Tower 25 & 26 are available at the lowest prices. But as soon as the development progresses, the prices of these apartments will increase and will be high on demand just like the apartments located at the front of Main Jinnah Avenue and are ready to move. Buying is highly recommended as this is one of the most attractive opportunities to earn maximum profit with minimum and secure investment.
For further details and updates contact our UPN Realtors or stay updated with Universal Property Network website.