500 Sq. Yards Plots in Precinct 37 – Highly Recommended for Profitable Investment
by UPN
March 3, 2019
0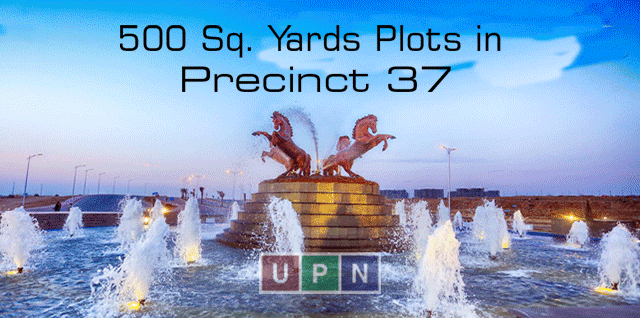 Bahria Town Karachi is the biggest name of real estate that needs no introduction as it's excellence speaks on its own. It is beautifully designed with the largest sub-project name Bahria Sports City. This highly attractive sub-project is further divided into many precincts. Among many of the top precincts Precinct 37 is an attractive one. It was launched when Bahria administration has launched Bahria Sports City. But in this very short term of the period, Precinct 37 has made a significant value in this sub-project for many of the attractive reasons. It is considered the hot-favorite one for its outclass location, fastest development, and so many attractions in its surroundings. The plots cuttings of 500 sq. yards are available in it that are highly recommended for investment.
The are many reasons that make these plots highly attractive to invest so let's discuss them and be ready to invest in Precinct 37.
Location Overview and Attractions
Precinct 37 is located in Bahria Sports City. It is located close to the Main Jinnah Avenue or it would be right to say that Main Jinnah Avenue is located at the right side of this precinct. It is situated close to Rafi Cricket Stadium and Eiffel Tower is also located at the walking distance from Precinct 37.
Development Updates
The development of Precinct 37 has made this precinct an impressive choice for investors and buyers. It is designed in between the mountains, and as it is surrounding by so many attractions, Bahria Administration is rapidly developing this precinct. Grounds are already leveled and heavy machinery is working day and night to complete the development process as soon as possible.
500 Sq. Yards Plots in Precinct 37
Precinct 37 is a very beautiful precinct of Bahria Sports City that offers the bigger size of residential plots in it. Basically the plots of 500 sq. yards & 1000 sq. yards are designed in it. But investors are showing more interest in the available plots cuttings of 500 sq. yards plots for the amazing rates. Bahria Town has launched the plots of 500 sq. yards in 58 lacs. And now these plots are available with the own price of about 12 lacs to 20 lacs.
Investment Analysis
According to current market value, of these residential plots of 500 sq. yards are highly attractive to invest in Bahria Town Karachi. Precinct 37 is an ideal choice for its amazing location and top attractions available in its surroundings. 500 sq. yards plots are positioned at the hot-favorite location that is close to Rafi Cricket Stadium, Eiffel Tower and right to Main Jinnah Avenue.  The available plots cuttings available in Precinct 37 are providing a great opportunity for investors to earn a promising profit with it. As it is expected that the possession of these plots is will be handover in next 6 to 8 months. Completion of development and the announcement of possession will definitely boost up the prices of these 500 sq. yards plots, so buying is highly recommended.
If you are interested in buying 500 sq. yards plots in Precinct 37, feel free to contact Universal Property Network.