Reasonable Plots of 5 Marla & 8 Marla In OLC-B Extension Bahria Orchard Phase 2
by UPN
February 27, 2019
0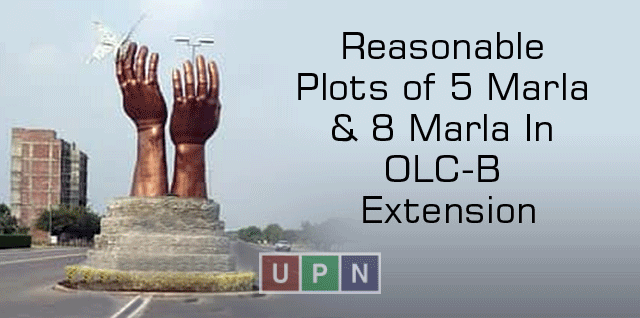 Bahria Orchard is one of the most successful project of Bahria Town Pvt. Limited located in Lahore. Comprised of 4 Phases, but buyers are showing more interest in Phase 1 & Phase 2 for the latest development status, possession availability & increased ratio of population.
Bahria Orchard Phase 2 is comprised of many blocks but the hot-favorite one for the percentage of inhabitation is Olc B block. The demand for plots in this block is very high so recently, the administration has launched a new extension with it, named OLC-B Extension. And now Bahria Orchard is offering the residential plots 5 Marla and 8 Marla in OLC-B Ext.
The prime location of the residential plots available in OLC-B Ext,is a big attraction for buyers and investor. These residential plots are economical in term of the latest prices. Including more these plots are ideal to meet your residential needs and to earn promising profit with secure investment. Further location details, latest plots prices & detailed investment analysis is provided below for you.
 OLC-B Ext – Location Overview
Bahira Orchard Phase 2 is ideally located at the Main Raiwind Road. OLC –B Block is ideally located near the main entrance of this phase. And Bahria administration has just launched a new extension with OLC-B. This Extension is launched located attached to OLC-B Block so the value of plots in it is already increased.
Latest Plots Prices in OLC-B Extension
In this recently announced deal of residential plots in OLC-B Extension, the plots cuttings of two categories are available. One is 5 Marla and the second one is the 8 Marla residential plots. The starting prices of these 5 Marla plots in OLC-B Ext. are 24 lacs to 28 lacs. In OLC-B Ext. the plots of 8 Marla are available at the price of 35 lacs to 38 lacs. The prices of the plots are different as some of the plots are available on the Main Boulevard as well.
Initially, the buyer will have to pay 50 % of the total amount as token money. The remaining amount will be payable in the next six months in the two quarterly installments.
Investment Analysis
Making an investment in OLC-B extension is definitely a great opportunity for investors and buyers. The reasonable prices, ideal location, population ratio of Olc B block is making these residential plots of 5 Marla and 8 Marla in OLC-B extension an ideal choice for investment and residence. The development work is already started and will soon complete so these plots are highly recommended to build your dream home in Bahria Orchard Phase 2. And at the same time,
OLC-B block of Bahria Orchard Phase 2 is already populated and families are enjoying the luxurious lifestyle of Bahria Town. So the availability of residential plots in its Extension is definitely a once in a lifetime opportunity for investors.
To book your plot contact Universal Property Network.