Reasons to Buy Property in Bahria Town Lahore
by UPN
October 3, 2020
0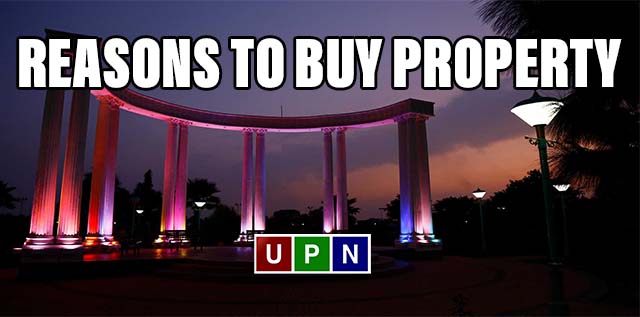 Bahria Town Lahore is among the most popular choices to buy property in Lahore. It is a society where everyone wants to buy the best properties for sale. Undoubtedly, its developers have designed it brilliantly to meet the needs of every investor by offering a variety of residential and commercial properties. It would be nothing wrong to say that there are many reasons to invest in Bahria Town Lahore which attracts huge numbers of peoples.
So, do you also want to buy property in Bahria Town Lahore but still finding important reasons to invest? Let's discuss those reasons in details for your ease!
Ideal Location Of Bahria Town Lahore
Bahria Town Lahore is located beautifully on Main Canal Road. It is easily accessible from Shoukat Khanam Hospital side through Avenue 1 society. The third main approach to Bahria Town Lahore is from Sundar Road, while you can also access it easily from Mian Raiwind Road. So, the location of Bahria Town Lahore is very prime and easily accessible from multiple routes.
Bahria Town Lahore is a City within the City
Bahria Town Lahore is the most revolutionary development on the landscape of Lahore. It is not just a housing society or a place good for investment in commercials, but undoubtedly, it's a complete city within the city. It's a place where you will find the best high-standard living facilities and so many attractions.
Starting from the standard schooling and healthcare facilities to grocery, restaurants, shopping centres, saloons, and play areas, Bahria Town Lahore is a complete package for everything.
Let me clear one it that whenever, we plan to buy any property we first think about security, facilities and the environments. So, here Bahria Town Lahore is a one-stop solution to all your requirements.
You will be provided by the dream facilities which others can only imagine while living in other housing societies.
Eye-Catching Attractions At Bahria Town Lahore
The artistic components, such as monument amazingly testify the plans and obligations. And here Bahria Town Lahore always wins the game. Bahria Town Lahore has these following splendid landmarks and eye-catching places that no just increases the beauty of this society but are also the perfect entertainment places to be visited:
Grand Jamia Mosque
Replica of Eiffel Tower
Ahram-e-Misr, the Egyptian Pyramid
Trafalgar Square
Safari Villas Zoo
Bahria Town Country Club and Food Court
Variety of Properties and Different Prices
Not just ending there, but Bahria Town Lahore also catches the attention and investment of investors by offering a variety of properties. Here you will find the residential plots of various sizes and the prices are different as per the location. Commercial plots and shops are available in all the sectors where you can buy or can get on rent. Also, those looking for constructed houses, villas or apartments can choose Bahria Town Lahore as their dream destination.
So, here we can conclude that Bahria Town Lahore is the top-notch housing society where you will facilitate in every walk of life.
Contact us to find out the details of available properties for sale in Bahria Town Lahore!
If you have any queries, please contact Universal Property Network!
Check out our site for more detail. Latest News