What Makes Sector C Bahria Town Lahore Best to Buy Property?
by UPN
December 10, 2019
0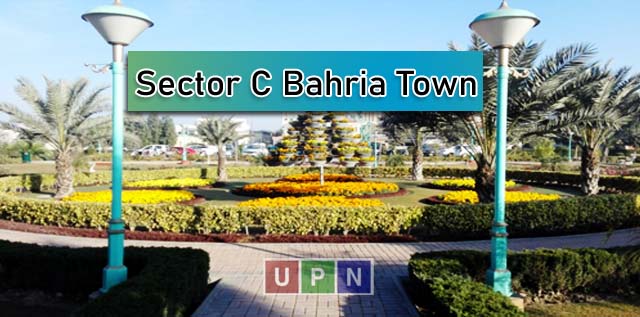 Sector C Bahria Town Lahore
Sector C Bahria Town is the most renowned area of Bahria Town Lahore In terms of location and available facilities. Beautifully located at the distance of only 5 minutes, this sector is offering a standard lifestyle in a peaceful environment. It is a brilliantly planned sector of Bahria Town Lahore featuring attractive infrastructure, serene green spaces, and all the world-class facilities that anyone can desire for quality lifestyle.
Blocks in Sector C
Sector C Bahria Town Lahore is considered the most popular one. It is further comprising ten blocks in it. These blocks of Sector C are:
Jasmine Block
Nargis Block
Iris Block
Janiper Block
Tulip Block
Gardenia Block
Gulbahar Block
Gulmohar Block
Chambelli Block
All these blocks are beautifully developed and featuring the most prominent landmarks of Bahria Town Lahore.
Let's explore some important and most attractive features as well as amenities available in Sector C!
Prime Location & 24/7 Transportation
Sector C Bahria Town Lahore is situated adjacent to Sector B, Safari Villas, and Overseas Enclave Lahore.
This sector is attracting everyone with its easy accessibility to all the main roads as well as public transportation. Sector C is well-connected to the other sectors of Bahria Town Lahore through a network of roads including a main 210 feet wide boulevard.
Some major bus stops lie in the proximity of Sector C is:
Al-Falah Plaza Bus Station
Talwar Chowk Bus Station
Safari Villas Bus Stop
Mor Chowk Bus Station.
Grand Jamia Mosque
Sector C Bahria Town Lahore is holding importance among all the other sectors of this housing as it is featuring the stunning Grand Jamia Mosque. This Grand Mosque of Bahria Town Lahore is an architectural marvel that artistically blends impressive Islamic art with contemporary architecture.
The mosque is spacious enough to accommodate about 70,000 people at a time.
Standard Educational Institutes in Sector C Bahria Town
Another prominent feature of Sector C is the presence of renowned educational institutes in it.
Beacon House School & Bahria Town Own School both are located in Janiper Block Sector C. Meanwhile, Akhtar Saeed Medical & Dental College is also situated in Tulip Block Sector C.
Uninterrupted Supply of Electricity
Buying property in Sector C Bahria Town Lahore will come along with the best facilities of uninterrupted power supply.  The continuous supply of electricity and power backup all makes Sector C, the best place to buy the property.
Markets & Shopping Malls in Sector C Bahria Town
Sector C has also known as the commercial hub of Bahria Town Lahore. It is featuring numbers of the best supermarkets, grocery stores, as well as state of the art shopping malls.
Moreover, those living in this sector will also enjoy easy access to Gardenia Market in Gulmohar Block. Some other famous markets in Sector C are:
Freshly Mart and Victoria Departmental Store
Dada Ji De Hati Mini Market
Easy Mart
Malls in Sector C are:
Jasmine Mall
Dil Nawaz Plaza
The Great Mall
Premium Healthcare Facilities
Sector C is the top residential area in Bahria Town Lahore where you will find the best healthcare facilities. Here you will find Rainbow Clinic in its Commercial Area and Sharif Medical Hospital in Chambelli Block.
Moreover, Bahria Town Lahore Hospital also lies in its proximity.
Parks & Grounds
This sector is also designed with the number of beautiful parks and grounds in it. That's why the demand for property in the proximity of these parks is very high.
Some of the famous parks of Sector C are:
Janiper Block Park
Tulip Block Park
Nargis Block Park
Jasmine Block Park
Restaurants & Cafes
Sector C is a perfect place to find the best eateries in Bahria Town Lahore. Here you will find the best restaurants offering traditional Desi food to fast-food joints as well as multi-cuisine restaurants.
Most renowned restaurants in Sector C Bahria Town Lahore are:
Ravi Restaurant
Lazzat Hotels & Restaurants
Honey Beans Cafe and Restaurant
Crosta 11
Jammin' Java Café
Max Fast Food
Pizza Junction and Zest Restaurant
Gourmet Bakers & Sweets
Cakes and Bakes
All About Cakes
Bundu Khan Bakers & Sweets
Sector C  – Investment Opportunities
This sector is featuring the plots of 5 Marla, 10 Marla, and 1 Kanal. Not only plots, but you can also invest in constructed houses available for sale.
The prices of houses for sale in Sector C Bahria Town Lahore  are:
5 Marla house for sale in Sector C will cost you between 95 lacs to 1.04 crores.
To buy a house of 10 Marla in Sector C, you will have to pay 1.4 crores to 2.6 crores.
On the other hand, if you are interested to buy 1 Kanal house in Sector C, Bahria Town Lahore, it will be available at the price range of 3 crores to 6.5 crores.
The prices of plots for sale in Sector C Bahria Town Lahore  are:
A 5 Marla residential plot in this sector will cost you around 50 lacs to 70 lacs.
The 10 Marla plots for sale in Sector C, are available at the price of 65 lacs to 1.2 crore. Moreover, the price range of 1 Kanal plots in this area is starting from 90 lacs and goes up to PKR 2.2 crores.
Stay Updated with Universal Property Network!
Latest Property Prices in Bahria Town Lahore
For Booking, Please Call/Whatsapp Mr. Waqas Naseer From Universal Property Network (UPN) At +923211172227.