Tab City Rawalpindi – Location Map, Payment Plan, and Details
by UPN
November 4, 2022
0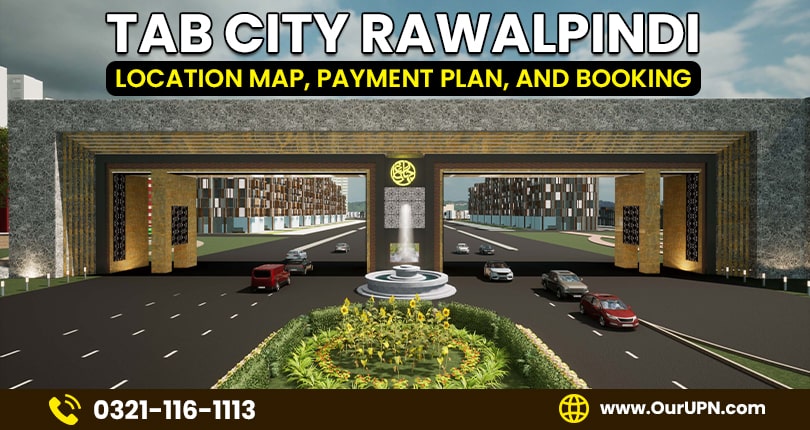 Tab City Rawalpindi is a carefully planned, uniquely designed modern development located on the main GT Road Dhoke Kharian, surrounded by the breathtaking view of lush green hills.  Featuring all the top-class facilities, this place's accessibility from the major areas of the twin cities is one of its most appealing qualities. Being a developing and emerging project, Tab City Rawalpindi has guaranteed all the essential and fundamental facilities necessary for a complete lifestyle, such as top-notch infrastructure, health, education, and leisure facilities.
Additionally, the developers have guaranteed that the society would be developed by international standards, meeting the needs of both investors and buyers. Here its residents can experience a higher standard of living than their dreams.
Aside from the magnificent location, the availability of properties at affordable prices makes it the perfect investment in Islamabad. It is an ideal destination for people who want to live and raise their families in a neat, clean and healthy environment. Its residents will be facilitated in every walk of life.
In short, this place has a good location, urban planning, a range of properties, and most importantly, the facilities, you always want to enjoy. So, let's have an overview of the complete details!
Tab City Rawalpindi Location Map
Location is a key component in the real estate market because investors frequently search out and desire easy access to modern-day facilities. That's why choosing a good location in society is essential. A good location means a variety of great restaurants, grocery stores, shopping malls, and other entertainment facilities will be available in the surroundings. But don't you worry Tab City Rawalpindi location is outstanding.
This project is located on the Main GT Road near Dhoke Khariyan. Tab City is only a few minutes away from Rawat. At the same time, this location is very close to Main G.T Road. Its distance from the iconic Giga Mall is also 10 minutes. Anyone can easily approach it from multiple routes. Many of the best societies are also growing nearby.
About Master Plan
A group of highly qualified people with years of expertise in the relevant department are busy in creating the Tab City Rawalpindi Master plan. Utilizing their exceptional skills, they are working to design something attractive enough to win investors' hearts. The details of the master plan will be available soon. However, here we are sure that this amazing developing society will offer all essential and luxurious amenities.
Its residents will enjoy every amenity available at their doorsteps. Its developers are very much dedicated to establishing a well-planned project. This society will span over a large area and like all modern projects, it will have several sectors and blocks. All these will offer you the best properties in both residential and commercial categories. Stay connected to know more about the master plan of Tab City.
Tab City Plots for Sale
With all the other striking features, the plots for sale in this society are amazing. Here you will get a chance to easy investment in a wide range of plots. Currently, you can buy the following sizes of plots:
5 Marla Residential Plots
7 Marla Residential Plots
10 Marla Residential Plots
1 Kanal Residential Plots
As this project is new and developing, it is only offering residential plots. But soon, you will find new bookings in commercial plots, houses, and apartments there.
Tab City Rawalpindi Payment Plan
Buying an affordable plot in Islamabad is the heartiest desire of everyone. But what if you get the chance to buy the best plots with easy installments? Sounds impossible? It is not! Tab City Rawalpindi Payment Plan is designed according to the wishes of modern buyers and investors. Not only the prices are budget-friendly but also booking starts from a few percent down payment. It is only 20% for all the residential plot categories.
Moreover, the remaining amount will be payable in 36 monthly installments. You can check the complete prices below:
5 Marla Plots in Tab City Islamabad
These plots are available at the launching price of 22.75 lacs. Booking from 4.55 lacs only. The monthly installment of the plot is 50,555/- only. Also, the payment plan for these plots has a total of 36 monthly installments. It means it spans over 3 years.
7 Marla Plots in Tab City Rawalpindi
These 7 Marla plots are available at the launching price of 30.80 lacs. Booking from 6.16 lacs only. The monthly installment of the plot is 68,444/- only. Also, the payment plan for these plots has a total 36 monthly installments. It means it spans over 3 years.
10 Marla Plots in Tab City Islamabad
You can easily purchase these plots at the launching rate of 42.50 lacs. Booking from 20% which is 8.50 lacs only. The rest of the amount will be payable in 36 monthly installments. Here each installment cost 94,444/- only. These plots have a 3 years payment plan.
1 Kanal Plots in Tab City Islamabad
Buy the best 1 Kanal plots in 82 lacs only. The booking of the plots starts from 16.40 lacs. The remaining amount is divided into 36 equal monthly installments. Its monthly installment is 82,222/- only.
| | | | |
| --- | --- | --- | --- |
| Plot Size | Total Price | Booking 20% | Monthly Instalment (*36) |
| 5 Marla (25*50) | 2,275,000 | 455,000 | 50,555 |
| 7 Marla (30*60) | 3,080,000 | 616,000 | 68,644 |
| 10 Marla (35*70) | 4,520,000 | 850,000 | 94,444 |
| 01 Kanal (50*90) | 8,200,000 | 1,640,000 | 182,222 |
Reasons to Invest
Tab City Rawalpindi is one of the newest housing societies in the twin cities. It is offering wide options of plots. Its location is good and most importantly, the prices are affordable. But what makes it a unique development? What are the top reasons to consider this for investment? Here these are:
Thoughtful Project Planning
Beneficial Surroundings
Healthy Environment
Affordable Plots with Flexible Payment Plans
On-Time Delivery Expected
International Standard Development as Per Expectations
About Developers
Tab City Rawalpindi is a project of Tab Builders, who are devoted to offering top-notch building services. They collaborate directly with developing teams to complete this project to high standards. Also, they are working to deliver this society on the committed time. These developers specialize in both residential and commercial projects and work hard to offer the best properties to their clients. Once this society completes, you will surely enjoy your investment there.
Tab City NOC Updates
Having a valid NOC is essential for the success of a project, especially for a housing society. Tab Builders understands it very well. That's why they had already submitted the application for approval with all the required documents to the relevant authorities. Tab City NOC will be awarded soon. Once the NOC is available, more investors and buyers will invest there.
Amenities You Will Enjoy
This housing project makes sure that it includes a variety of features and amenities like walkways, wide roads with green belts, planned properties at affordable rates, and other necessary amenities starting from electricity, water, and gas to leisure. You can check the details of facilities below in the blog:
Secure Gated Community
Beautiful Entrance and Boundary Wall
Uninterrupted Provision of Utilities such as Electricity, Water, and Gas
Lush Green Parks Including the Graceful Theme Park
Water Filtration Plant and Waste Water Management
Transportation Facilities
Lush Green Landscapes
Commercial Area and Sector Shops
Top-Class Educational and Health Facilities
Mosque in Every Block
Sports Facilities
Shopping and Eatery Setups
Kids Play Areas and Many More.
Overall, Tab City Rawalpindi is a beautiful project with incredible investment opportunities. You can confidently consider it for residence and capital growth purposes.
Frequently Asked Question
What is the Location of Tab City Islamabad?
It is located on the Main GT Road near Dhoke Khariyan. Tab City is only a few minutes away from Rawat.
Which Properties are Available in Tab City?
Here you can buy the residential plots of 5 Marla, 7 Marla, 10 Marla, and 1 Kanal.
Is Tab City Offering Plots on Installments?
Yes, you can buy its plots on 3 years easy payment plan whereas booking starts from 20% down payment.
What are the Updates of Tab City NOC?
This society is planned at the ideal location of the city featuring impressive town planning. Tab Developers had already purchased land for it. Moreover, the application of this society's approval is submitted to the relevant authorities.
Is Buying Profitable?
Yes, you can confidently buy the best plots for sale in Tab City Rawalpindi for both residential and investment purposes.
For further details, please contact the experts at UPN! We are here to serve you with profitable property deals as per your budget and demands.
Please contact us through WhatsApp, web form, or visit our Youtube channel for further assistance.