Top Options To Consider for Property Investment in 2020
by UPN
January 27, 2020
0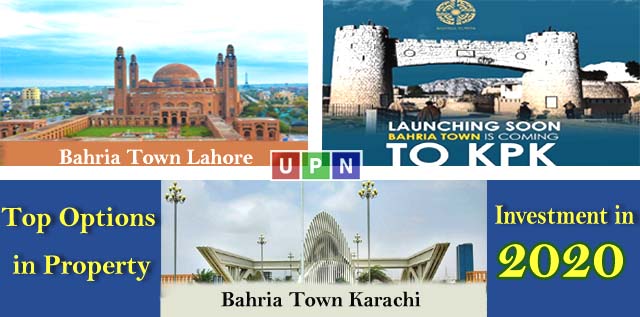 Pakistan real estate industry had suffered a lot in 2019. So many ups and downs were observed due to many reasons such as unrealistic policies of the government, political instability, and bad economic conditions. However, the year 2020 is expected to see a boom in real estate investments.
The newly imposed taxes on the buying and selling of the property are gradually getting clear for investors. Moreover, there are some latest modern developments across the country that is strengthening the real estate sector of Pakistan.
The top best options to make property investment in 2020 are:
Bahria Town Lahore
Bahria Town holds significant value among all the modern and well-planned housing projects in Karachi. It is a society with numerous options available to cater to the needs of both the end-users and investors. Those looking to live peacefully in Lahore or desire to earn best with secure investments always do consider this Bahria Town Lahore as the first choice.
So, we recommend you buying in Bahria Town Lahore as it is one of the best reliable options for investment in 2020.
Bahria Town Peshawar
After getting huge success in the well-planned housing societies across the country, now the top developers are moving forward to Peshawar. Bahria Town Peshawar is the most-awaited housing project that is soon going to be launch officially. The developers have already acquired a large area of land for its developments. Its administration has recently announced to develop it within the record time of 3 years. This announcement with so many other factors is now making it the ideal investment option to consider for secure and profitable investment.
The booking forms for the different properties will be soon available in the market. So, be prepared and stay updated to make a right and wise investment decision!
Bahria Town Karachi
This mega housing venture is a fabulous option to buy different properties in Karachi. The much-planned development and the increasing construction, as well as the population both, are attracting investors to consider it. Bahria Town Karachi is a complete city within the city of lights. It is designed with numerous options that meet the needs for both the residential purpose as well as for commercial properties.
2019, was not so an impressive year for the society, and being honest we believe that Bahria Town Karachi will keep struggling in 2020 in terms of prices.
The affectees of disputed lands have not received their refund cheque so far. Secondly, many investors are still protesting for the allotment of their plots in different blocks.
So, we suggest buying in Bahria Town Karachi but only for long term periods.
Some Important Tips to Invest in 2020
Being a real estate investor, we suggest you explore different properties of various categories before making investment in any property. You can compare different residential plots, homes, apartments, offices, and farmlands to get the best idea before investment.
Check the location of the property and do consider buying the property at the location that is already populated.
Stay updated with Universal Property Network!