Bahria Adventure Land – All You Need To Know
by UPN
February 6, 2020
0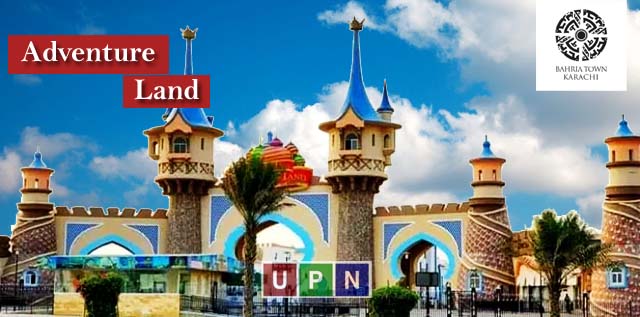 Located within the mega housing project Bahria Town, Bahria Adventure Land is the latest addition to the list of tourist attractions in Karachi. It is Pakistan's first international-standard theme park that is designed with boasts exciting rides, play areas, eateries and numbers of other family-friendly attractions.
Here in this latest write-up, we will discuss all the latest details and main features of Bahria Adventure Land Karachi.
Bahria Adventure Land – An Overview
This first International –standard theme park of Pakistan is built in collaboration with Italian manufacturers. It is a complete family entertainment place that offers a number of recreational activities for both children and adults alike.
Safety Measures
Before sharing the further details of Bahria Adventure Land, it is important to note that some of its rides have strict height restrictions. These restrictions are totally for the safety of visitors.
For example, a person need to be above 4'5" and under 6'5" tall to ride Cyclone, whereas he needs to be between 4'2" and 6'3" to ride on Power Drop.
There is also a height limit set for Shark Attack that is from 4'2" to 4'5".
Along with these numerous rides, marching band, and water attractions, entertaining mascots and the sprawling Dino Park at Bahria Adventure Land also appears to have become a popular spot among the visitors.
Meanwhile, the main entrance of Bahria Adventure Land is also memorizing. Moreover, there is also an ATM Machine installed near the ticket corner. Indeed, if you want to take a break or looking for refreshments, there is also a proper arrangement for it.
KFC and McDonald's both are located close to Bahria Adventure Land. Some of the best eateries at Theme Park are Crispy for You, Burger King, Palladium Food Court, and Aqua Bar.
Bahria Adventure Land – Location Details
Pakistan's First International Standard Theme Park is located at the best housing society Bahria Town Karachi. It is located on the main Jinnah Avenue. It is situated just off the M-9 Motorway.
Timings at Bahria Adventure Land
Monday to Thursday: 4:00 PM to 11:00 PM
Friday to Sunday: 4:00 PM to 12:00 AM
Ticket Prices at Bahria Adventure Land
Adults: PKR 4,000 (including all rides)
Children: PKR 3,000 (including all rides)
Another Family Attraction at Bahria Town Karachi
Danzoo – Day and Night Zoo
This is another biggest attraction at Bahria Town Karachi.  It is the most popular place to visit with your kids. It is considered the first international standard zoo in Pakistan.
Here you will find a wide range of exotic animals including tigers, lions, leopards, panthers, and monkeys. Moreover, black bears, deer, giraffes, and zebras are also a part of it.
Visitors can also see ostriches, parrots, macaws, doves, white and black swans, geese, cobras, and pythons.
Timing at Danzoo Bahria Town Karachi
Timings: 12:00 PM to 11:00 PM
Danzo Ticket Prices
PKR 300 for children between 1 to 12 years old
PKR 500 for adults however, Children below the age of 1 can enter the zoo free of charge.
Danzoo Location
This most popular attraction of Bahria Town Karachi is beautifully located in Precinct 19.
Stay Updated with Universal Property Network!