Villas on Installments in Precinct 1 Bahria Town Karachi
by UPN
January 27, 2021
0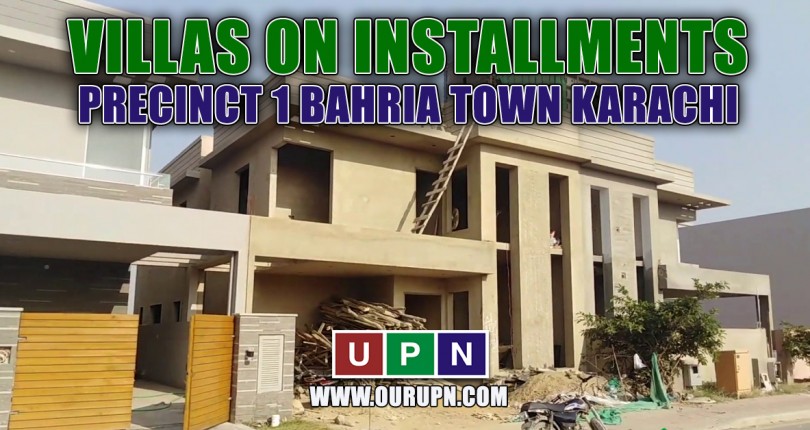 Precinct 1 is the very first and the most beautifully located precinct of Bahria Town Karachi. This precinct is located at the start of Bahria Town and accessible within walking distance from the main gate. Precinct 1 is the eye-catching and simply the heart-winning place where lots you will find all the latest-day facilities, even more than your imaginations. Precinct 1 offers the plots of 250 sq yards, as well as the villas on installments, are available.
All these properties for sale in Precinct 1 Bahria Town Karachi are on-ground and possession available. Precinct 1 plots and villas with possession can build your dream houses or shift in the ready villa without waiting for anything else. So, let's find out more about the available villas on installments in Precinct 1!
Precinct 1 Villas of 250 Sq Yards
Bahria Town Karachi Precinct 1 offers you the opportunity to buy the best villas of 250 sq yards. These villas are available at attractive prices along with customized payment plans. Most of these villas are ready, and many are under construction. Besides, you can also choose a plot, can plan your villa design, and pay in easy installments.
The convenient payment plans of 1 year, 2 years, and 3 years are available. This facility of installments is a golden opportunity for those looking to shift to Bahria Town Karachi immediately.
The villas' prices for sale in Bahria Town Karachi are ranging from 2.80 crores to 3.70 crores. Villas prices are different as per the location.
Precinct 1 Plots of 250 Sq Yards
Not only villas but the best plots to construct your dream home are available for sale in Precinct 1. These plots are located impressively and have many attractions in the surroundings. Precinct 1 plots of 250 sq yards are available in the price bracket of 1 crore to 1.75 crores. All these plots are on-ground.
Facilities in Precinct 1
Precinct 1 is a fully facilitated precinct of Bahria Town Karachi. It was the very first precinct of Bahria Town where the first mosque Masjid-e-Aashiq was made operational. This precinct also features the state-of-the-art building of Beaconhouse House. Precinct 1 has an abundance of parks and has easy access to Carnival Bahria Town Karachi.
Commercial markets are also operational there as well as a well-equipped hospital is located nearby. Moreover, other top facilities of Bahria Town, such as Grand Jamia Mosque, Theme Park Karachi, and Danzoo, are at a short distance.
Buying in Precinct 1 Villas on Installments
The villas available on easy installments in Precinct 1 are highly attractive to buyers. These villas are ideally located and good to choose from for residence in Bahria Town Karachi. Buying in Precinct 1 Villas on installments can be more profitable than other villas options available in Bahria Sports City and Bahria Paradise.
Contact Universal Property Network for further details!