Where to Invest in DHA Lahore in 2022?
by UPN
June 9, 2022
0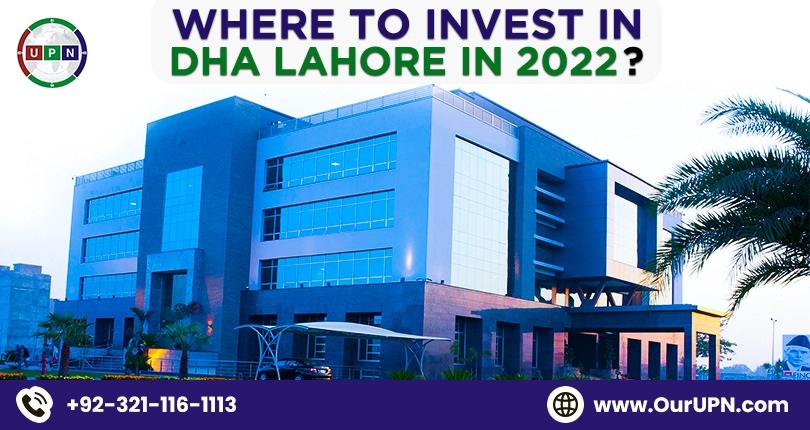 Every investor desire to invest in Pakistan real estate market. It is attractive because the property market is one of the finest options to invest and generate returns. Over the past few years, our real estate sector has several advancements. Many of the top-class residential and commercial projects are launched providing people with incredible investment and joyful residence opportunities. But how can we forget about DHA, especially DHA Lahore? This place is always on the top. Both buyers and investors invest in DHA Lahore to meet their property need perfectly.
This housing society was launched many years ago. Now it is well-developed and has grown into several phases. All of these phases have trademark amenities and offer the best properties for sale. Undoubtedly, DHA Housing Societies are full of options. These properties are wide enough to make someone confused in taking the right investment decision. Well, you don't need to worry! UPN is here to help you. Let us explore the details together:
Invest in DHA Lahore to Get Countless Benefits
DHA Lahore is one of the beautifully developed and impressive housing societies. Comprises several phases, this society holds significant importance for offering a high-standard lifestyle. The properties for sale in DHA Lahore are ideal for investment. However, the best phases to choose are:
DHA Phase 9 Town and DHA Phase 9 Prism
The location of DHA Phase 9 Town is ideal. It is located on Bedian Road and is easily accessible from multiple routes. Moreover, DHA Phase 9 Prism location is between Ferozpur Road and Bedian Road Lahore. The distance of this society from Allama Iqbal International Airport is only 10 minutes. Both of these societies are incredible. But people prefer buying in DHA Phase 9 Prism because of the reasonable prices and high investment potential.
The plots for sale in DHA Phase 9 Prism are 5 Marla 10 Marla, 1 Kanal and 2 Kanal. Moreover, you can choose between the commercial plots of 4 Marla and 8 Marla as well. Here is one thing important to add is that DHA Phase 9 Prism is beautifully developed. It's a society full of amenities. So, investment there will be good for residence in the budget and huge investment gains.
Short Term Investment in DHA?
Do you still search for the ideal investment option in DHA Housing Societies? Are you looking for short-term investment gains by investing in the best property? Then, we suggest buying in:
DHA Multan
It is one of the top residential ventures in Pakistan. Developing at the fastest pace, DHA Multan offers a diverse range of residential and commercial plots. At the same time, it has several sizes of villas, you can choose happiness. Buying in DHA Multan properties will surely make you confident like you do invest in DHA Lahore.
But the 1 Kanal residential plots on installments and 1 Kanal plots files are excellent. These are low-cost and profitable options to go with.
DHA Bahawalpur
Being the first of its kind high-standard development, DHA Bahawalpur offers you incredibly well-planned properties for sale. It is located ideally and features all the top-class facilities that attract you to invest in DHA Lahore. This society is developing at the fastest pace. DHA Bahawalpur offers high demand plot sizes and ready to move properties. Here you can choose the property of your desires. But buying 1 Kanal plot or 1 Kanal plot file will surely benefit you a lot. Prices of properties are rapidly increasing, making investment difficult. However, investors who had taken timely decisions will enjoy this increase in the prices in the form of good returns.
Conclusion
While summing up all the latest details of investment in DHA Lahore, we conclude that it is highly profitable. Not only this but people with a desire to get handsome profits with short-term investments can choose DHA Multan and DHA Bahawalpur. Both these societies are secure to invest in.
Please contact Universal Property Network For More Information click here or visit our Youtube channel for further assistance.