Why Investment in Precinct 4 Bahria Town Karachi is Best?
by UPN
September 9, 2021
0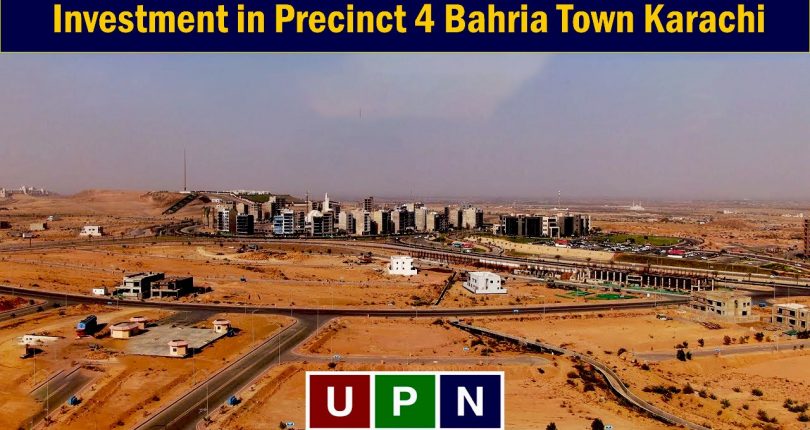 Precinct 4 Bahria Town Karachi is one of the best precincts of this mega housing society. This precinct is completely developed, featuring state of the art development. Precinct 4 also have an ideal location, which lies in the proximity of Bahria Town commercial hub. Therefore, the plots for sale in this precinct are ideal to consider, especially for residential purposes. Also, its plots are good for builders who want to construct houses and sell them later.

All this is the basic information of Precinct 4; below, we will discuss the reasons "why you should invest in it"?
Precinct 4 Bahria Town Karachi – Prime Location
Location is the most appealing factor of Precinct 4. This precinct is ideally located at the prime location of this mega venture. It is situated at the distance of 3 KM from Bahria Town main entrance. Located on Main Jinnah Avenue, this precinct is easily accessible. Furthermore, it has many attractions in the proximity, such as:
It is located opposite Midway Commercial A Side
Also, in front of Bahria Town Head Office.
Many well-known projects are located nearby.
Undoubtedly, its ideal location and easy access make it best to invest.
Precinct 4 Bahria Town Karachi – Plots and Their Prices
This beautiful precinct offers 500 sq yards plots available for residential construction. All of its plots are on-ground and available with possession. The launching prices of plots was surprisingly affordable. But currently, the prices are increasing due to complete development and good construction.
The latest prices of 500 sq yards plots in Bahria Town Karachi Precinct 4 are between 1.55 crores to 2.25 crores.
Here another question arises that why there is a huge difference in the prices?
The difference in the prices of plots is because of the location. Some of its plots are located at the top height. Many are deep, while some have odd locations near the boundary or so. A 500 sq yards plot with a good location will cost you around 1.75 crores to 1.95 crores in Precinct 4.
Why We Suggest Buying in Precinct 4?
We recommend buying in Precinct 4 Bahria Town Karachi because this precinct has grown as one of the best areas of this society. Many families are living there while a large number of houses are under construction. Undoubtedly, this precinct is also a favourite choice of builders.
People living in Precinct 4 are enjoying all the trademark facilities of Bahria Town. Moreover, the location of this precinct is close to all the major attractions. Moreover, the good inhabitation ratio plays a vital role, making this precinct the best to invest in.
Contact us for further assistance.
Please contact Universal Property Network  For More Information click here or visit our youtube channel further assistance